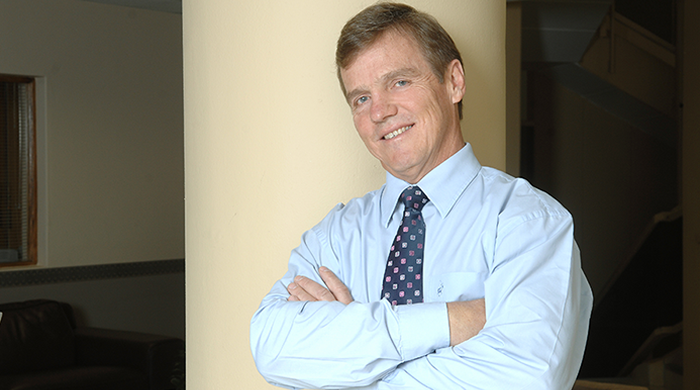 Dr Theuns Eloff has enjoyed a diverse career that includes being a minister of religion, chief executive officer of business organisations, the administrative head of a national negotiations process, vice-chancellor of the NWU and executive director of a national foundation concerned with the promotion and protection of the constitution of South Africa.
Eloff started his academic career in 1972 at the former Potchefstroom University for Christian Higher Education with a BJur Economics degree. He then turned his sights towards theology and obtained a bachelor's and master's degree (both cum laude) in Theology. He concluded with a PhD in Theology in 1989.
His dedication to and bond with his alma mater brought him back to the university in 2002, this time as vice-chancellor. Often described as the right man at the right time, he led the newly merged North-West University successfully through the merger and played a pivotal role in establishing the NWU's reputation as a leading South African university both locally and abroad.
Eloff's management model contributed directly to the success of the merger and the new university. His vision ensured that the NWU grew to be the second largest university in South Africa. He left the academic sector after two decades in 2014 after two terms (the maximum number) as vice-chancellor.
He has played a significant role in the political arena. As part of his work as chief operating officer of the Consultative Business Movement (CBM), Eloff helped facilitate the signing of the Peace Accord in 1991. He led the secretariat at CODESA in 1991 and 1992 and became head of administration for the Multi-Party Negotiation Process between 1993 and 1994.
Eloff is currently the executive director of the FW de Klerk Foundation, which promotes peaceful activities in multi-community countries and seeks to nurture South Africa's democracy. He also serves as chairman of Astral Foods, Die Dagbreek Trust and Die Trust vir Afrikaanse Onderwys.
He has written widely on diverse topics and has co-authored, edited or co-edited a number of publications. His first book, "Wat nou Suid-Africa" was published in 2016 with the English version being prepared for publication in 2017.
He has received numerous awards, including the Business Statesman of the Year Award, Global Leader of Tomorrow Award and Business Communicator of the Year (Africa) Award.