BRICS @ NWU is a digital and interactive platform of the NWU that links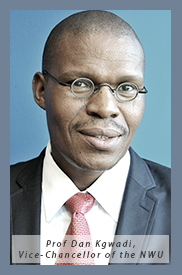 BRICS tertiary training institutions, researchers and academics with one another with the aim of supporting joint projects, training and research. The focus areas include socioeconomic development for the developing state as well as national priorities and strategic interests of BRICS countries in a global world.
BRICS @ NWU supports the initiative of the BRICS Academic Forum to create a database in order to share knowledge in a "partnership" for development and economic growth and industrialisation. The accepted premise is that emerging economic systems also include the sharing of knowledge and skills with African universities and the African Union.
The North-West University (NWU) has already entered into agreements with several BRICS universities for the exchanging of knowledge and skills. In an increasingly competitive society it is also vital that innovation be emphasised. Academic disciplines already involved in a BRICS context are Engineering, Health Sciences and Pharmacy, Agriculture and Natural Sciences, Education, Economic and Management Sciences, Law and Humanities.