The NWU Business School is focused on combining theory and practice, in order to fully develop the strategic leadership potential of business managers. The programme content and standard of the NWU Business School's Postgraduate Diploma in Management ensure that participants acquire skills with regard to best business practice and thought-leadership that can successfully be applied to the multi-disciplinary challenges encountered.
Format
Delivery mode: Full-time, part-time, or distance
The programme is offered in English on all sites of delivery
Minimum Requirements
Admission requirements:
An acknowledged Baccalaureus degree or similar qualification, or sufficient relevant experience.
Acceptable academic record
Fees
To receive a quote, please follow these easy steps:
Click on the link http://services.nwu.ac.za/student-accounts-and-bursaries/payable-fees
Choose "Get a quotation on class fees"
If you are a current student choose yes and log in with your student number.  If you do not have a student number, choose No
Select the year in which you want to study
Click on search
Select your campus
Leave qualification description empty.  Qualification:  For first-year =5FCD051 and for distance =5HAD051
Click on OK
Click on Select and Next
Important Dates
Applications for 2023 open on 1 July and closes on 30 November.
Modules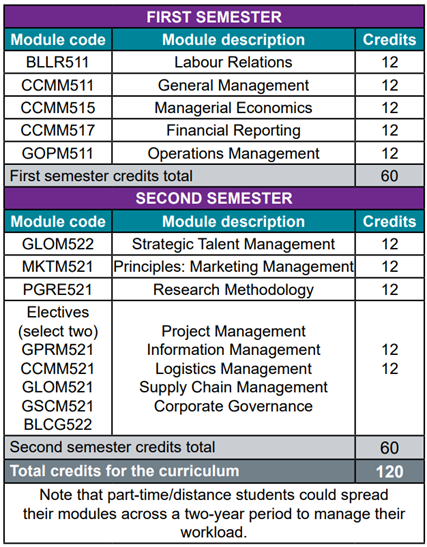 Prescribed Books
Application Process
Tell me more
Support Staff
Ms. Wendy Smith
Tel: +27 18 299 4193
Ms. Puleng Mogwere
Tel: +27 18 389 2258
Ms. Saleemah Abdulah
Tel: +27 18 389 2095
Mr. Stephan van Zyl
Tel: +27 18 389 2486
General email: PGDip-inquiries@nwu.ac.za
Enquiries