An MBA qualification is regarded as the flagship of business training worldwide. We provide our students with the tools to succeed in the business environment and become professional thought-leaders who excel in management. The MBA is accredited by the Higher Education Quality Council (HEQC) in South Africa, internationally by AMBA in London (UK) as well as AABS in Africa.
Our MBA degree combines theory and practice to fully develop the strategic leadership potential of managers participating in our programme.
Format
This is a two-year qualification and can be completed in a maximum duration of three years. We follow a blended methodology that includes both synchronous and asynchronous teaching and learning activities. Classes are presented on a part-time basis and students choose on which site they want to attend their classes (Potchefstroom, Mahikeng, Vanderbijlpark)
Minimum Requirements
A qualification on NQF level 8 (a 4-year professional degree, honours degree or a Post-graduate Diploma) and 3-4 years of relevant work experience. The NWU Business School also offers the Post-graduate Diploma in Management on a part-time basis as an alternative route to get you to your MBA.
Fees
To receive a quote, please follow these easy steps:
Click on the payable fees link
Choose "Get a quotation on class fees"
If you are a current student choose yes and log in with your student number.  If you do not have a student number, choose No
Select the year in which you want to study
Click on search
Select your campus
Leave qualification description empty.  Qualification:  For first year = 5BEQ011, for second year = 5BEQ012.
Click on OK
Click on Select and Next
Important Dates
Please note that only applications will be accepted.
Follow this link to apply
Applications close on 31 October 2022 for 2023.
Modules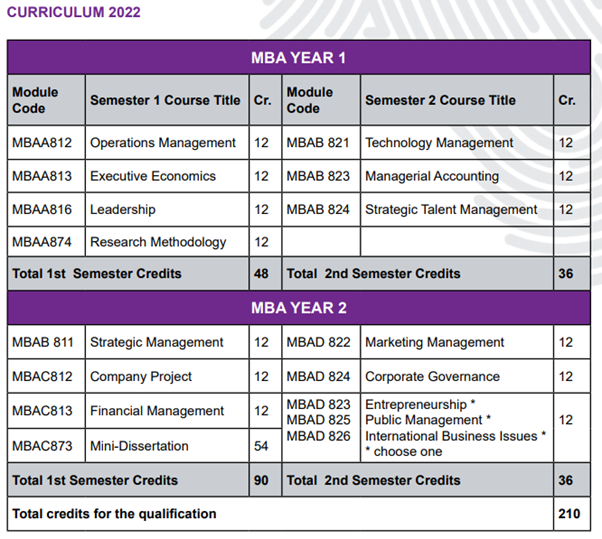 Application Process
Step 1
In order to apply for admission, a prospective student needs to complete an online application and submit all the required supporting documents as indicated in the guidelines for applicants:
An updated CV,
A letter motivating why your application should be considered,
Certified copies of your ID document, academic records and related certificates,
Proof that the application fee was paid.
Applications are only accepted in electronic format. Please ensure that all your documents are already in electronic format when you apply online to submit them electronically.

Step 2
Applicants will be notified with regard to their status after the initial screening. Applicants who pass the screening phase will be contacted to take the required GMAT admission test.

Step 3
If a candidate achieves the required threshold result in the GMAT test, they will be invited for an interview with a panel that will make a final decision regarding the admission status of the candidate.
Tell me more
Contact us
+27 18 285 2759
+27 18 299 1379
+27 18 285 2820