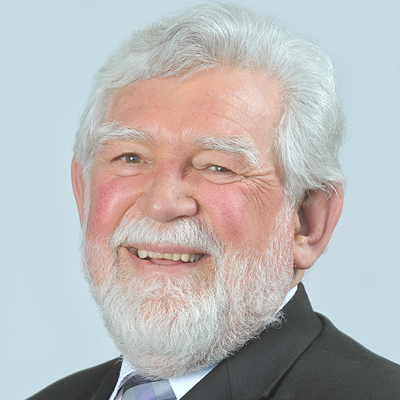 ​
Prof Fika Janse van Rensburg: embodying excellence in academia and management
At the height of the #FeesMustFall protests at South African universities in 2016, one campus in the country did not lose any tuition time. That was the NWU's Potchefstroom Campus, and the rector at the time was Professor Fika Janse van Rensburg, whose achievements in university management are as legendary as his achievements in academia.
Prof Fika retired at the end of 2018 after 45 years with the NWU. During that time, he published 65 papers and 26 books on ancient languages and New Testament textual studies, read papers at 36 conferences and supervised 23 master's and 21 PhD students to completion.
An internationally respected scholar, Prof Fika held research fellowships from Yale University and the University of Miami in the United States of America, Humboldt University in Germany and Radboud University in the Netherlands. 
Within South Africa, he served on numerous editorial boards and was co-founder of the Forum for University Theological Education and President of the New Testament Society of South Africa.
Over the decades, he held eight management positions at the NWU, including Dean of the Faculty of Theology, Rector of the Potchefstroom Campus and Vice-Principal and Deputy Vice-Chancellor of the university.
With boundless energy and enthusiasm, Prof Fika embraced the NWU's transformation to a unitary university, managing to retain the loyalty of its alumni from the different campuses.
Prof Fika Janse van Rensburg: verpersoonliking van uitnemendheid in die akademie en bestuur
Op die hoogtepunt van die #FeesMustFall-betogings by Suid-Afrikaanse universiteite in 2016 het een kampus in die land geen onderrigtyd verloor nie. Dit was die NWU se Potchefstroomkampus, en die rektor op daardie stadium was professor Fika Janse van Rensburg, wie se prestasies in universiteitsbestuur so legendaries as sy prestasies in die akademie is.
Prof Fika het aan die einde van 2018 ná 45 jaar by die NWU afgetree. Hy het in daardie tyd 65 referate en 26 boeke oor antieke tale en Nuwe Testamentiese tekstuele studies gepubliseer en referate by 36 konferensies gelewer, en was die studieleier vir 23 meestersgraad- en 21 PhD-studente  wat hulle grade voltooi het.
As 'n internasionale vakkundige het prof Fika navorsingsgenootskappe by Yale Universiteit en die Universiteit van Miami in die Verenigde State van Amerika, die Humboldt Universiteit in Duitsland en die Radboud Universiteit in Nederland gehou.  
Hy het in Suid-Afrika op talle redaksies gedien, was die medestigter van die Forum for University Theological Education en die voorsitter van die Nuwe Testamentiese Vereniging vir Suider-Afrika (New Testament Society of Southern Africa).
Hy het oor die dekades heen agt bestuursposisies by die NWU beklee, insluitende dekaan van die Fakulteit Teologie, rektor van die Potchefstroomkampus, en adjunkhoof en adjunk-visekanselier van die universiteit.
Met sy grenslose energie en entoesiasme het prof Fika die transformasie van die NWU tot 'n unitêre universiteit aangegryp, en daarin geslaag om die lojaliteit van die alumni van die verskillende kampusse te behou.
Mop Fika Janse van Rensburg: o emela tiro ya maemo  a kwa godimo mo go tsa akatemi le botsamaisi
Fa dikhuduego tsa #FeesMustFall mo diyunibesiting tsa Aforikaborwa di ne di le kwa setlhoweng sa tsone ka 2016, go na le khamphase e le nngwe fela mo nageng ya rona e e neng ya se ka ya latlhegelwa ke nako ya dithuto. E ne e le Khamphase ya Potchefstroom ya YBB, mme moreketoro ka nako eo e ne e le Moporofesa Fika Janse van Rensburg, yo diphitlhelelo tsa gagwe tsa botsamaisi mo yunibesiting di akgolegang fela jaaka diphitlhelelo tsa gagwe tsa akatemi.
Mop Fika o ne a rola tiro kwa bokhutlong jwa 2018 morago ga dingwaga di le 45 a direla YBB. Ka nako eo, o ne a phasalatsa dipampiri di le 65 le dibuka di le 26 ka ga dipuo tsa bogologolo le dithuto tsa mokwalo wa Tesetamente e Ntšha, o neetse dipuo kwa dikhonferenseng di le 36 le go okamela dimasetase tsa baithuti ba le 23 le di PhD di le 21 go fitlha kwa bokhutlong jwa tsone.
Mokanoki yo o itsegeng mo dinageng tsotlhe, e leng Mop Fika o na le thutego ya boakatemi-bogolo go tswa kwa Yale University le Yunibesiti ya kwa Miami kwa United States of America, Yuniti ya Humboldt kwa Jeremane le Yunibesiti ya Radboud kwa Netherlands. 
Mo Aforikaborwa, o ile a direla mo dibotong di le mmalwa tsa botseleganyi e bile o ne a le motlhami-mmogo wa Foramo ya Yunibesiti ya Thuto-Bomodimo e bile a le Poresidente wa mokgatlho wa Tesetamente e Ntšha ya Aforikaborwa.
Go kgabaganya masome-some a dingwaga, o nnile mo maemong a botsamaisi a a seng ka fa tlase ga a le robedi kwa YBB, go akaretsa le go nna Modini wa Legoro la Thutabomodimo, Moreketoro wa Khamphase ya Potchefstroom le Mothusa Mogokgo le Motlatsa-Motšhanselara wa Khamphase yunibesiti.
Ka maikatlapelo a gagwe a a seng kana ka sepe, Mop Fika o ne a dumela gore ditheo di fetolwe go nna yunibesiti e e seoposengwe mme o kgonne go tswelela pele go nna moithuti wa nako e e fetileng wa dikhamphase tse di farologaneng tsa YBB.