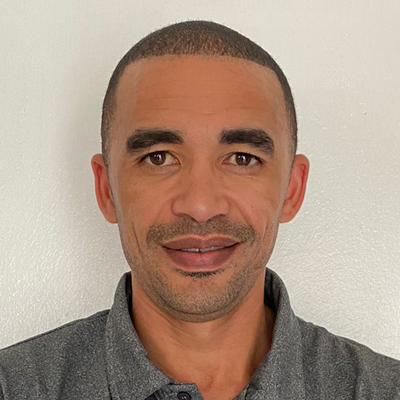 ​
Elroy Gelant: A humble hero on and off the track
Fleet of foot and humble in character, Elroy Gelant is in a league of his own – as an athlete, in developing the next generation of champions, in standing up against women and child abuse and in his unswerving loyalty to the NWU.
Elroy is a household name for his athletics achievements. He was a finalist in the 5 000 metres at the Rio Olympics in 2016, ran the marathon at the 2021 Tokyo Olympics and has represented his country in many other international competitions.
He is currently the South African 5 000 m recordholder, with a yet-to-be-beaten time of 13:04:88, as well as the recordholder in the 3 000 m track-and-field indoor event.
These and many other achievements, such as winning the 2019 Old Mutual Two Oceans Half Marathon, are all the more impressive considering that Elroy is employed full time at NWU People and Culture. He actively contributes to the development of up-and-coming young athletes and markets the NWU's Potchefstroom sport facilities to elite athletes.
Elroy takes a stand against women and child abuse, and has served as an ambassador for the 16 Days of Activism for No Violence against Women and Children campaign.
An alumnus of the NWU, Elroy completed his BCom degree in Resource Management in 2008 and his BComHons in Labour Relations in 2009. The relationship has gone from strength to strength ever since.
Elroy Gelant: 'n Nederige held op en van die baan af
Elroy Gelant is enig in sy soort – as atleet vlugvoetig en nederig, besig om die volgende geslag kampioene te kweek, iemand wat standpunt teen die mishandeling van vroue en kinders inneem, en iemand wat onwrikbaar getrou aan die NWU is.
Elroy is 'n huishoudelike naam vir sy atletiekprestasies. Hy was 'n finalis in die 5 000 meter by die Olimpiese Spele in Rio, en het die marathon by die 2021 Olimpiese Spele in Tokio gehardloop. Hy het ook reeds sy land in talle ander internasionale kompetisies verteenwoordig.
Hy is tans die Suid-Afrikaanse rekordhouer vir die 5 000 m met 'n onoorwonne tyd van 13:04:88, asook die rekordhouer in die binnenshuise 3 000 m-baan- en veld-nommers.
Hierdie en talle ander prestasies, soos dat hy die 2019 Old Mutual Twee Oseane-halfmarathon gewen het, is nóg indrukwekkender as 'n mens daaraan dink dat Elroy voltyds by die NWU se Mense en Kultuur-afdeling in diens is. Hy dra aktief tot die ontwikkeling van ondernemende jong atlete by, en bemark ook die NWU se Potchefstroom-sportgeriewe aan elite-atlete.
Elroy neem standpunt in teen die mishandeling van vroue en kinders, en het al as ambassadeur vir die veldtog 16 Dae van Aktivisme vir Geen Geweld teen Vroue en Kinders opgetree.
Elroy is 'n alumnus van die NWU nadat hy in 2008 sy BCom-graad in Hulpbronbestuur, en in 2009 sy BCom Hons in Arbeidsverhoudinge voltooi het. Hierdie verhouding het van daar af van krag tot krag gegaan.
Elroy Gelant: Mogaka yo o boikokobetso yo o tsenang a tswa mo botabogelong jwa baatlelete
Elroy Gelant yo o dinao di bofefo e bile a le boikokobetso, o ntsha ga tshwene go gaisa botlhe - ke moatlelete yo o katisang kokomana ya bommampodi ba ka moso, mme o dira jalo ka go ema kgatlhanong le go sotlwa ga basadi le bana le go nna a Ikanyega ka dinako tsotlhe go YBB.
Elroy o itsege gongwe le gongwe ka ntlha ya diphitlhelelo tsa gagwe mo diatleletiking. O ne a fitlha kwa makgaolakgannyeng a dimetara di le 5000 kwa Dikgaisanong Tsa Diolimpiki Tsa kwa Rio ka 2016, a taboga mmarathone kwa Diolimpiking tsa kwa Tokyo ka 2021 gape o ile a emela naga ya gaabo mo dikgaisanong di le dintsi tsa boditšhabatšhaba.
Ga jaanong jaana ke motsholarekoto ya Aforikaborwa ya kgaisano ya 5000m, e e sa ntseng e tshwanelwa ke gore mongwe a e fenye ya metsotso e le 13:04:88, gape ke motsholarekoto ya lebelo la 3000m wa dikgaisano tsa mo teng ga kago tsa metshameko ya botabogelo jwa baatlelete le ya mo lebaleng.
Diphitlhelelo tseno le tse dingwe tse dintsi, tse di jaaka go fenya Halofo ya Mmarathone wa Old Mutual Two Oceans ka 2019, di kgatlha fela thata fa o akanya ka kgang ya gore Elroy ke modiri wa nako e e tletseng kwa YBB mo lefapheng la Batho le Setso. O thusa ka tlhagafalo go fatlhosa baatlelete ba ba santseng ba fatlhoga, le go maketa mafelo a metshameko a YBB ya Potchefstroom go baatlelete ba maemo a a kwa godimo.
Elroy o ema kgatlhanong le go sotlwa ga basadi le bana, e bile o ile a direla jaaka moemedi wa seno ka nako ya Malatsi a le 16 a Letsholo la Gore Go Lwela Diphetogo tsa gore Go Se Nne le Tirisodikgoka epe mo Basading le mo Baneng.
Elroy, yo e leng moithuti wa nako e e fetileng wa YBB, o weditse  dikirii ya gagwe ya BComHons ya Botsamaisi jwa Dikamano le Badiri le BComHons ya gagwe ya Dikamano le Badiri ka 2009. Kamano eo e ile ya tswelela pele go nonofa fa e sa le ka nako eo.