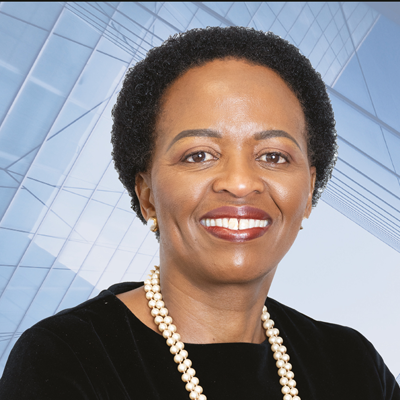 ​
Charlotte Mokoena: business leader with a human touch
Charlotte Kelepile Mokoena serves in the highest echelons of South Africa's corporate sector and is a leading light in the international training and development community. Yet Sasol Ltd's Executive Vice President of Human Resources and Stakeholder Relations remains as community orientated as ever.
When the Covid-19 pandemic broke out, Charlotte founded CareForCarers, a not-for-profit organisation that provides support to healthcare workers. She has also spent time in a community project at Chris Hani-Baragwanath Hospital.
As an executive leader, she has over 20 years' experience in various industries, including chemicals, mining and energy, agri-processing, fast-moving consumer goods and integrated communications services. Her vast business experience spans human resources, corporate culture and diversity, organisational capability development, stakeholder relations, reputation management, customer experience improvement and social impact investment.
Since graduating from the NWU with a Bachelor of Social Sciences degree in 1990, she has obtained numerous other qualifications, most recently an MCom in Leadership Studies (cum laude) from the University of KwaZulu-Natal. She also has postgraduate qualifications from universities in Switzerland, the USA and the UK.
Charlotte is a member of the Advisory Board of the American Society for Training & Development (South African chapter) and, last but not least, is Deputy Chair and Board member of the NWU Business School Advisory Board.
Charlotte Mokoena: sakeleier met 'n menslike kant
Charlotte Kelepile Mokoena dien in die hoogste range van Suid-Afrika se korporatiewe sektor en is 'n leidende figuur in die internasionale gemeenskap van opleiding en ontwikkeling. Tog bly Sasol Bpk. se uitvoerende visepresident van Mensehulpbronne en Belanghebberverhoudinge so gemeenskapsgeoriënteerd soos altyd.
Toe die Covid-19-pandemie uitgebreek het, het Charlotte CareForCarers gestig, 'n organisasie sonder winsoogmerk wat ondersteuning aan gesondheidsorgwerkers verskaf. Charlotte het ook tyd aan 'n gemeenskapsprojek by Chris Hani-Baragwanath Hospitaal bestee.
As 'n uitvoerende leier het sy 20 jaar ervaring in verskeie bedrywe, insluitende chemikalieë, mynbou en energie, agriverwerking, vinnigbewegende verbruikersgoedere en geïntegreerde kommunikasiedienste. Haar uitgebreide sake-ervaring omvat mensehulpbronne, korporatiewe kultuur en diversiteit, organisatoriese vermoë-ontwikkeling, belanghebberverhoudinge, reputasiebestuur, verbetering van kliënte-ervaring en belegging in maatskaplike impak.
Sedert sy in 1990 met 'n baccalaureusgraad in Sosiale Wetenskappe aan die NWU gegradueer het, het sy talle ander kwalifikasies verwerf, waarvan die mees onlangse 'n MCom in Leierskapstudies (cum laude) aan die Universiteit van KwaZulu-Natal is. Sy het ook nagraadse kwalifikasies van universiteite in Switserland, die VSA en die VK.
Charlotte is 'n lid van die adviesraad van die American Society for Training and Development (Suid-Afrikaanse tak) en laastens, maar nie die minste nie, is sy die visevoorsitter en raadslid van die NWU Besigheidskool se adviesraad.
Charlotte Mokoena: moeteledipele wa kgwebo yo o nang le tirisano e e molemo le ba bangwe
Charlotte Kelepile Mokoena o direla mo maemong a a kwa godimo thata a bolaodi mo setheong sa kgwebo mo Aforikaborwa e bile ke moeteledipele yo o solegelang botlhe molemo mo katisong ya boditšhabatšhaba le ya tlhabolola ya dikgono tsa tiro ya maloko a baagi. Mme le fa go ntse jalo, Motlatsa Poresidente-Mogolo wa Sasol Ltd wa Lefapha la tsa Badiri le wa Dikamano le Bakgatlhegedi o tswelela pele go thusa baagi fela jaaka pele.
Fa leroborobo la Covid-19 le ne le runya, Charlotte o ne a tlhama CareForCarers, setlamo se se sa direng diporofete se se tshegetsang badiri ba tlhokomelo ya pholo. Gape o dirisitse nako a dira mo porojekeng kwa Bookelong jwa Chris Hani-Baragwanath.
Jaaka moeteledipele wa mokhuduthamaga, o na le maitemogelo a dingwaga tse di fetang 20 mo diintasetering tse di farologaneng, go akaretsa le a dikhemikale, a moepo le a eneji, a go tlhotlha dikumo tsa temo, a tsamaiso e e bonako ya dithoto tsa badirisi le a ditirelo tse di kopantsweng tsa tlhaeletsa. Maitemogelo a a seng kana ka sepe a gagwe a kgwebo a akaretsa a mo lefapheng la tsa badiri, a mokgwa o setlamo se dirang ditiro ka one  batho ba sone ba ditso tse di farologaneng, a tlhabololo ya bokgoni jwa setlamo jwa go dira ditiro, a dikamano fa gare ga bana-le-seabe, a go itirela leina, a tokafatsa ya maitemogelo a dikhasetomara le a go tshegetsa tikologo ka madi a go rarabolola mathata a e nang le one.
Fa e sa le a sena go aloga kwa YBB ka dikirii ya Batšhelara ya Disaense Tsa Tikologo ka 1990, o nnile le dithutego tse dingwe gape tse dintsi, mme ya bošeng jaana ke ya Dithuto tsa Boeteledipele jwa MCom (cum laude) go tswa kwa Yunibesiting ya KwaZulu-Natal. Gape o nnile le dithutego tsa morago ga kalogo kwa diyunibesiting tsa Switzerland, USA le UK.
Charlotte ke leloko la Boto ya Bogakolodi ya Mokgatlho wa Amerika wa Katiso le Tlhabololo ya Dikgono Tsa Tiro (setlhopha sa  Aforikaborwa) mme, sa bofelo se le sone se leng botlhokwa, ke Mothusa Modulasetulo le leloko la Boto ya Bogakolodi ya Sekolo sa Kgwebo sa YBB.