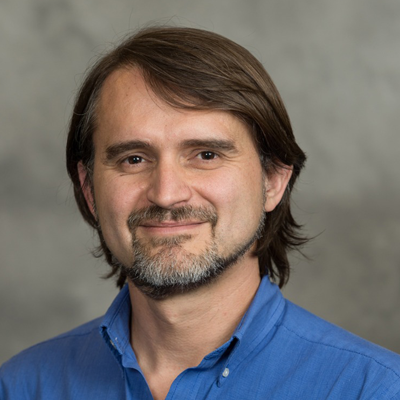 ​
Andries W Coetzee: Ambassador for Africa and Afrikaans in global academia
In Patagonia in Argentina, the influence of Afrikaans can still be heard in the speech of Spanish-Afrikaans individuals who have spoken mainly Spanish for four decades or more. This is one of many fascinating findings that University of Michigan linguistics professor Andries W Coetzee has uncovered in his research on Afrikaans-Spanish bilingualism and Patagonian Afrikaans.
An expert in phonology and how it affects the phonetics of language, Prof Coetzee is an advocate for the development and origins of Afrikaans. He regularly speaks at some of the world's foremost conferences on language and linguistics, and also shares his research on social media networks, ensuring that it is accessible to everyone.
Over and above his role as Associate Chair of Linguistics at the University of Michigan, he is Senior Advisor for African Engagement and Director of the African Studies Center. In all, he serves on 30 boards within the university.
Prof Coetzee is also the editor of three international journals, including Language, the flagship journal of the Linguistic Society of America (LSA).
He received the 2020 Faculty Recognition Award from the University of Michigan, and was named a Senior Fellow of the Michigan Society of Fellows in 2019.
Prof Coetzee still has close ties with the NWU, where he was awarded the Absa Medal and the SASSEM Prize for Best MA dissertation in 1996 and has been an extraordinary professor since 2014.
Andries W Coetzee: Ambassadeur vir Afrika en Afrikaans in die wêreldwye akademie
In Patagonië in Argentinië kan die invloed van Afrikaans steeds gehoor word in die spraak van Spaans-Afrikaanse individue wat al vier dekades lank of langer hoofsaaklik Spaans praat. Dit is een van die fassinerende bevindings wat die taalkundeprofessor Andries W Coetzee van die Universiteit van Michigan in sy navorsing oor tweetaligheid in Afrikaans-Spaans en Patagoniese Afrikaans gevind het.
As kundige in fonologie en hoe dit die fonetiek van taal beïnvloed, is prof Coetzee 'n kampvegter vir kennis oor die ontwikkeling en oorsprong van Afrikaans. Hy praat gereeld by van die wêreld se vernaamste konferensies oor taal en taalkunde – van Brasilië tot Johannesburg en Tokio – en deel ook sy navorsing op sosialemedianetwerke om te verseker dat dit vir almal toeganklik is.
Benewens sy rol as medevoorsitter in Taalkunde by die Universiteit van Michigan, is hy die senior raadgewer vir Afrikabetrokkenheid en die direkteur van die sentrum vir Afrikastudies. Hy dien op 30 rade van die universiteit.
Prof Coetzee is ook die redakteur van drie internasionale vaktydskrifte, insluitend Language, wat die vlagskip vir die Linguistic Society of America (LSA) is.
Hy het in 2020 die fakulteitserkenningstoekenning van die Universiteit van Michigan ontvang, en is in 2019 as senior genoot van die Michigan se vereniging vir genote benoem.
Prof Coetzee behou sy bande met die NWU, waar hy in 1996 die Absa-medalje en die SASSEM-prys vir die beste MA-verhandeling ontvang het, en hy dien sedert 2014 daar as 'n buitengewone professor.
Andries W Coetzee: Moemedi wa Aforika le Seaforikanse mo akateming ya lefatshe lotlhe
Kwa Patagonia kwa Argentina, motho o santse a kgona go utlwa Seaforikanse mo lelemeng la batho ba ba buang Se-Spain le Seaforikanse ba ba feditseng dingwaga di le some a mane ba bua Se-Spain. Eno ke nngwe ya dithibololo tse di kgatlhang tse bomankge ba Puo ba Yunibesiti ya Michigan e leng moporofesa Andries W Coetzee a e ribolotseng mo bathong ba ba buang teme-pedi e leng Seaforikanse le Se-Spain le Seaforikanse sa kwa Patagonia.
Mankge wa medumopuo le ka fa e amang sefonetiki sa puo ka gone, e leng Mop Coetzee ke mmueledi wa go nna teng ga Seaforikanse le tshimologo ya sone. Gantsi o bua thata kwa dikhonferenseng tsa maemo a a kwa godimo tsa puo le boithutadipuo, mme gape o abelana patlisiso ya gagwe mo dinetewekeng tsa mmedia wa botsalano, go tlhomamisa gore e fitlhelelwa ke botlhe.
Mo godimo ga seabe se a nang le sone jaaka Modulasetulo-Mmogo wa Dipuo kwa Yunibesiting ya Michigan, gape ke Mogakolodi-Mogolo wa Dipuisano Tsa Seaforika go Mokaedi wa Senthara ya Dithuto Tsa Seaforika. Ka kakaretso, o direla mo dibotong di le 30 mo yunibesiting.
Gape Mop Coetzee ke motseleganyi wa makwalopaka a mararo a boditšhabatšhaba, go akaretsa le le le bidiwang Language, le e leng karolo e e botlhokwa ya Linguistic Society of America (LSA).
O ikgapetse Awate ya 2020 ya Go Akgolwa ga Legoro go tswa kwa Yunibesiting ya Michigan, mme o ne a bidiwa Moakatemi-Mogolo wa Setšhaba sa Baakatemi-Bagolo ba kwa Michigan ka 2019.
Mop Coetzee o sa ntse a na le kgolagano e e nonofileng thata le YBB kwa a ileng a newa Mmentle wa Absa le Moputso wa SASSEM gone wa Patlisiso ka Serutwa, e e di Gaisitseng Tsotlhe ya MA ka 1996 mme o sa le a le moporofesa yo o tlhomologileng fa e sa ke ka 2014.