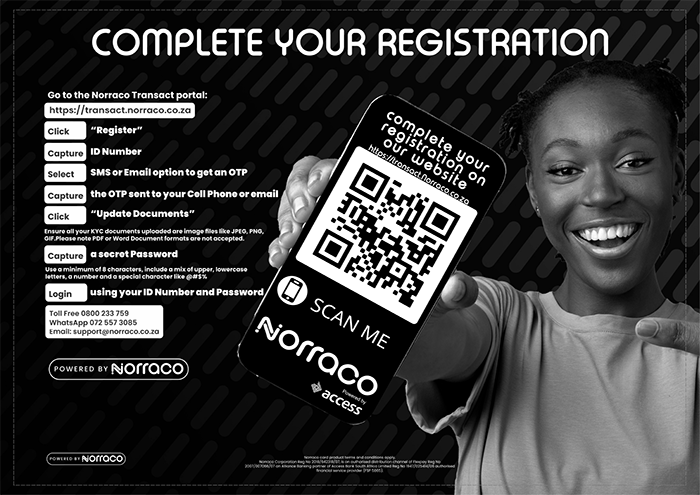 Norraco has requested NSFAS students who are attempting to onboard and experiencing issues with receiving an OTP pin to please visit the Norraco agents at their campus, who will assist in resolving the matter.

Students should also approach the agents for any other enquiries they might have regarding their Mastercards.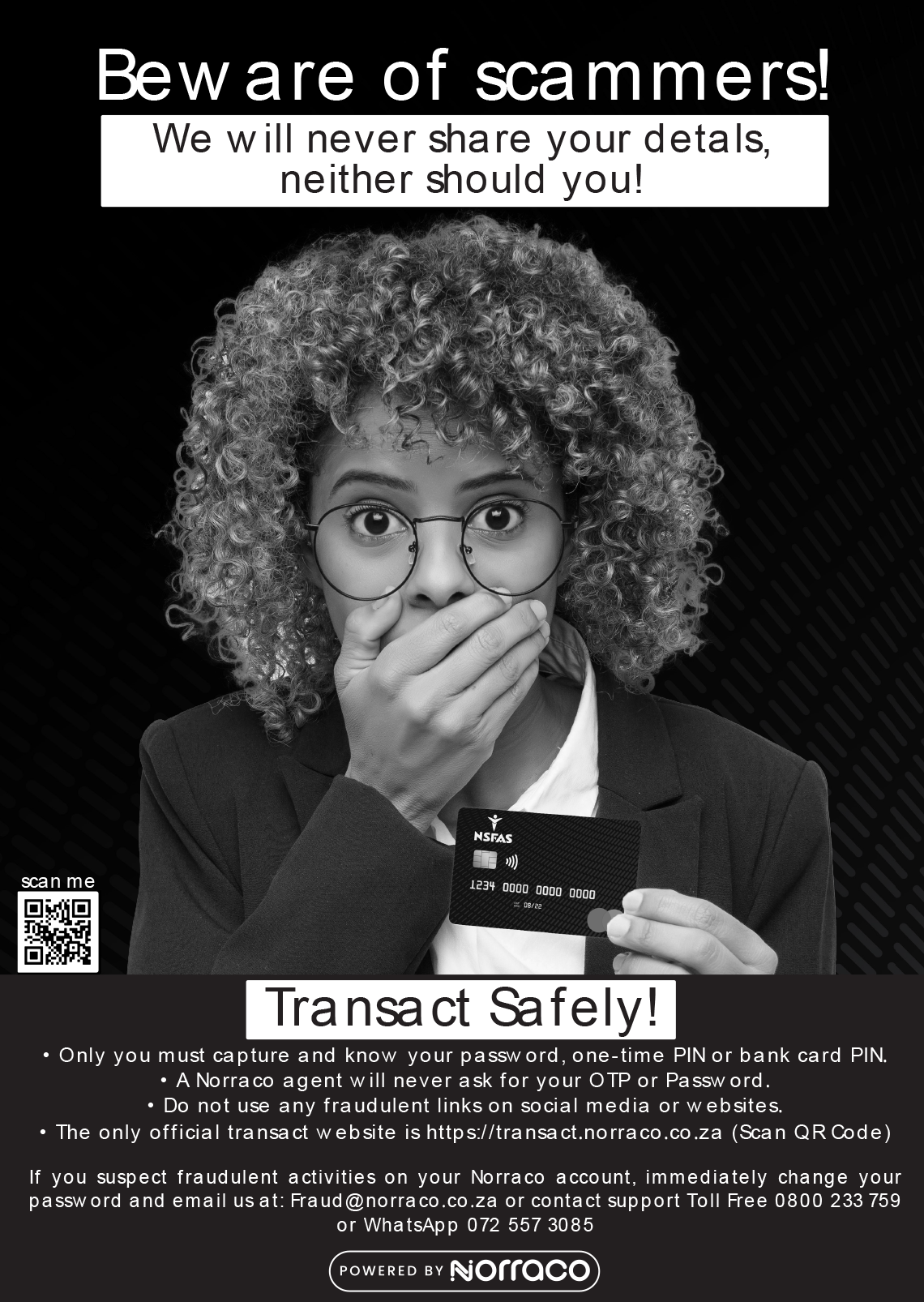 Media Statement
31 August 2023
Subject: Fake reports regarding NSFAS University allowance payments for September.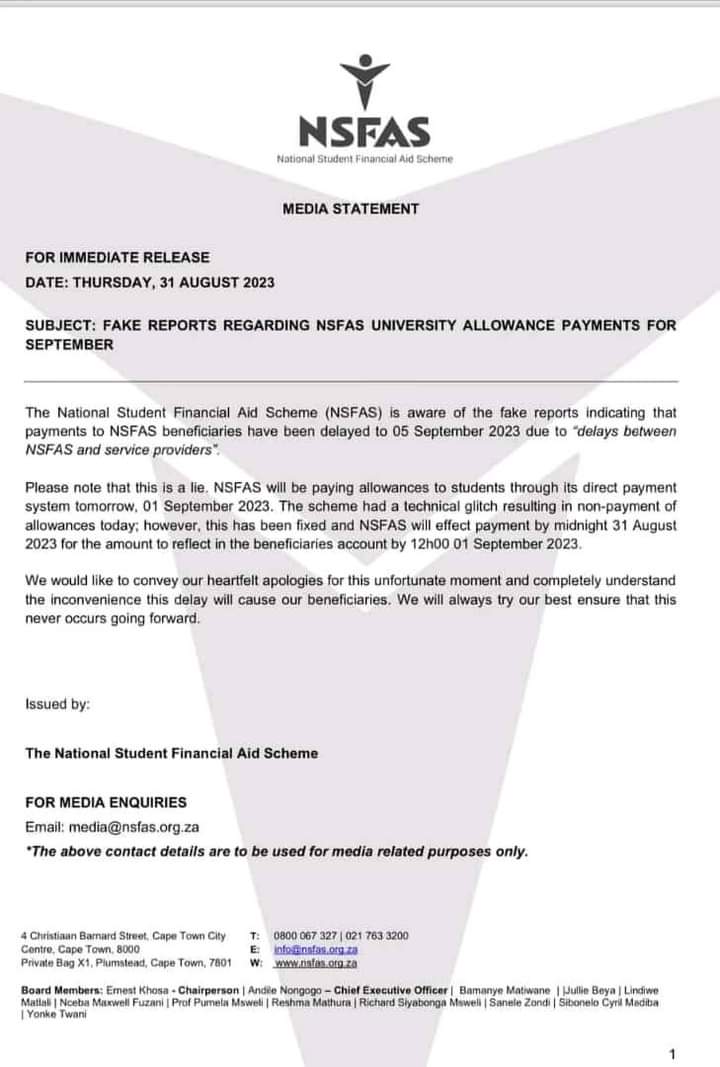 Late payments
31 August 2023
NSFAS student: Please take note that it came to our attention that students have not received their allowances although the NWU lead task team has been assured on Tuesday that payments will be made on time. NSFAS did not notify the NWU or the service provider, Norraco, that there could be a delay in payments. We assure you that we will do everything in our power to hold NSFAS accountable so that students will receive their allowances as soon as possible.
Norraco account fees: Choose how to transact with the NSFAS bank account
17 August 2023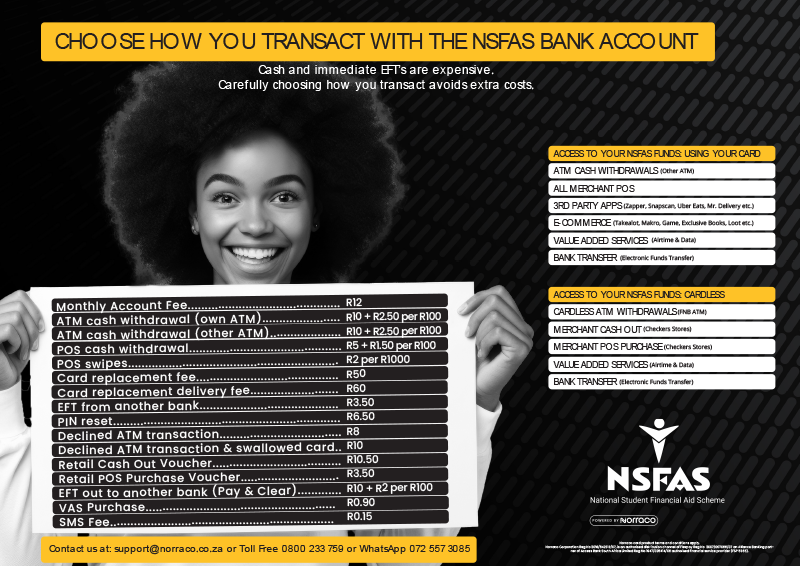 Key challenges created by the National Student Financial Aid Scheme (NSFAS)
5 August 2023
KEY CHALLENGES CREATED BY THE NATIONAL STUDENT FINANCIAL AID SCHEME (NSFAS) PLACE UNIVERSITIES AT RISK OF INSTABILITY AND BEING PLUNGED DEEPER INTO DEBT
The Board of Directors of Universities South Africa (USAf) is deeply concerned about the key challenges that have been created by the National Student Financial Aid Scheme (NSFAS). Their speedy resolution is paramount for the well-functioning of the higher education sector. As we write, several institutions in the sector affected by the new NSFAS allowance system, defunding and accommodation capping, face violent protests. Some of them have been forced to either halt planned face to face academic activity or resort to online learning in order to save the semester. Specifically, key challenges that Universities face with regard to the administration of new NSFAS initiatives are the following...read more
Progress and way forward regarding NSFAS issues and the academic programme
3 August 2023
Once again, thank you for your understanding and cooperation during the past few days. It has been necessary to live our ethic of care by not only attending to the concerns of students affected by matters pertaining to NFSAS payments, but also to mitigate identified risks to the academic project and safety of students and staff. We are happy to report that significant progress has been made towards addressing major outstanding issues with NSFAS and Norraco.
This has resulted in most of our students who have onboarded the Norraco system receiving their much-needed allowances. We urge students who are still experiencing problems regarding their allowances to go to the Norraco agents stationed at our campuses urgently. We remain committed to continue to engage with NSFAS and Norraco regarding outstanding issues and addressing any potential problems and challenges.
The successful completion of the academic programme is paramount to the university and our stakeholders. Therefore, all contact/face-to-face classes and activities shall resume on Monday, 7 August 2023.  We urge students who may have missed assignments or tests due to the temporary measure of online teaching-learning mode to contact the relevant lecturers as a matter of priority.
We take this opportunity to acknowledge and thank the NWU stakeholders who have contributed and pledged towards the Food Assistance Programme. As mentioned in our previous communique, some stakeholders registered their displeasure, frustration, and inconvenience that the temporary measure caused. We really appreciate the solution-oriented way in which you raised the issues. Although this situation was beyond our control, we are optimistic that it will not happen again.    
Please continue to work hard and smarter during the second semester. We wish you all the best with your classes and studies.  
We look forward to meeting you (staff and students) at our campuses on Monday, 7 August 2023.  
Thank you.
NWU Senior Management
Update regarding activities on our campuses
2 August 2023
The NWU Management thanks all staff and students for their cooperation since the announcement that all classes were moved to the online modality from 1 August 2023. Although progress has been made regarding finding solutions to the problems experienced with the NSFAS payments, a lot still needs to be achieved to ensure that the needs of the affected students are met. It must be emphasised that there is absolutely nothing that the NWU can do to resolve the problem except to provide the necessary information and persuade NSFAS and Norraco to address the problems speedily. We remain committed to continue to assist in this regard.
Regrettably, we have experienced illegal protests and disruptions of activities by some of our students at Potchefstroom and Mahikeng campuses. These illegal protests were reportedly about the continuation of academic activities in some of our faculties. We must make it clear that the university's academic programme continues, and when schools or faculties and students requested permission to continue with some activities that have regulatory and other implications, management had to allow those, and act responsibly to safeguard the interests of the university's academic standards and reputation.  
For example, the second assessment opportunity for first-year mathematics students had to take place today, 2 August 2023. Failure to write these assessments will have direct impact on registration for second semester. Therefore, approval was granted for these sessions to continue in a face-to-face environment. The first paper was written today, and the second paper will be written tomorrow, 3 August 2023. Communication (e-mail and SMS) was sent to all affected students in time. This is happening across all three campuses. These students must be allowed to continue with their studies.
Students must understand that although they have rights to express their dissatisfaction, those rights come with responsibilities. The university's rules are very clear on this.  Illegal protests and infringement on the rights of others will not be tolerated and those involved will have to face the consequences in terms of the applicable rules and policies.
The graduation ceremonies that are scheduled for 3 and 4 August on the Potchefstroom Campus will also continue, and we are looking forward to welcoming the graduands and their families and friends on our campus. Graduation ceremonies are key milestones for both the university and the graduands, and we will ensure that they experience the ceremonies with the glory and honour they deserve.
We have a responsibility and accountability to all our stakeholders, and to act within the parameters of the laws of our country. Therefore, we will not, in anyway or form, support or encourage our students to take part in illegal gatherings or protest actions. We would be held responsible and accountable should there be damages to property or fatalities during such events.  
Our movement to online classes is only a temporary measure. We expect to return to our normal contact classes within the next few days. We have taken this precautionary measure to allow NSFAS and Norraco to resolve their issues and enable all our students to participate fully in the academic programme. We continue to meet with both NSFAS and Norraco daily to assist with the resolution of challenges encountered.  We are aware that some of our stakeholders are impatient and would like to resume with the normal programme urgently. However, we need to consider all factors including those students who are unable to participate in classrooms.
Therefore, we urge all our stakeholders to cooperate with us and to assist in any way possible to allow us to bring the situation back to normal and resume with our academic programme in a face-to-face manner. In the meantime, online classes will continue until further notice, and staff who have arranged with their managers to work remotely, must continue to do so.
We will update you of any developments tomorrow, 3 August 2023.
 
Thank you.
NWU Senior Management
Update regarding NSFAS direct payment issues
1 August 2023
Since the communique of yesterday, 31 July 2023, the NWU management has been working to get NSFAS and Norraco to resolve outstanding issues. These include the non-availability or very slow response time of the Norraco internet-based system, the non-issuing of NSFAS mastercards to students, as well as students approved for NSFAS funding, but not on the payment lists. The manager of the university's bursary office physically went to the NSFAS offices in Cape Town to demand answers regarding outstanding issues and managed to resolve matters mostly regarding students' data.
We managed to get hold of the Norraco-payment-file to allow us to reconcile that with the information NWU supplied to NSFAS and which NSFAS supplied to Norraco. We continue to follow-up with NSFAS regarding all identified discrepancies to ensure that they are corrected as a matter of urgency to allow due payments to be done.  As at today, 1 August 2023, close to 21 500 students have been allocated their allowances, but access problems persist reportedly due to Norraco system unreliability or downtime. We are concerned that more than 1 000 NSFAS approved students have not yet onboarded the system and would not be able to access their allocated and available allowances. We appeal to these students to urgently complete the onboarding process or contact the relevant offices for assistance.
Students have raised grave concerns regarding Norraco's exorbitant banking charges. This matter was raised with NSFAS, and the university was informed that it is non-negotiable; thus, the implementation of the current charges will continue. Students are encouraged to read our earlier communiques  to learn all about the most effective way of handling their allowances to ensure the least costs.
Management will continue to liaise with NSFAS and Norraco to resolve the outstanding issues and to enable the full continuation of the academic programme and activities. Face-to-face classes will remain suspended until further notice, and staff who have arranged with their managers to work remotely must continue to do so.
In line with the university's ethic of care, a Food Assistance Programme will be launched on each campus tomorrow, 2 August, to assist students who have not yet received their allowances or are onboarded but cannot access their allowances. Details regarding locations and times will be communicated soon.
We will update you of any developments tomorrow, 2 August 2023.
 
Thank you.
NWU Senior Management
The academic programme moves online until further notice due to NSFAS payment delays.
31 July 2023
The NWU management reiterates that it is disheartened and pained by the recent developments regarding the NSFAS and Norraco direct payment of allowances to deserving beneficiaries. We have repeatedly cautioned that this situation will happen, and regrettably our advice was ignored. We sympathise with our students especially the NSFAS beneficiaries who are affected by the payment delays.
Management wants to assure students that all effort from NWU's side was committed towards those aspects where we could contribute to a smooth handover in the best interest of our students. We commit to continue to put more pressure on the relevant structures including NSFAS and Norraco to ensure a complete handover and implementation of direct payments or a serious consideration of other viable and sustainable alternatives.
We acknowledge the students' frustrations and the impact that the delays, non-payment, and third-party system problems have on the NSFAS beneficiaries and the academic programme. We have already witnessed some of the unfortunate incidents that have happened across our campuses today, 31 July 2023. Regrettably, a decision about the taking over of direct payments from universities has been made by NSFAS and as previously communicated, the NWU has been disempowered by this process. As on 31 July, approximately 90% of the NWU NSFAS beneficiaries could technically access their funds provided the Norraco system is functional. These are beneficiaries who have been already onboarded.  
We remain committed to continue to persuade NSFAS towards ensuring that allowances are available to students as soon as possible. This is crucial for us to conclude the 2023 academic year successfully.
Therefore, all face-to-face classes are suspended with immediate effect until further notice. The lecturers have been asked to publish the teaching material and recordings online for students to download and continue with the academic programme.
We request staff to liaise with their managers and where possible work remotely until further notice. In the meantime, management is liaising with all role-players to find solutions. We hereby commit to update you daily regarding developments in this regard.
Thank you.
NWU Senior Management
Progress made regarding the direct payment by NSFAS of allowances to beneficiaries
28 Julie 2023
As was communicated to all recipients of NSFAS funds on 19 July 2023, allowances will as from 31 July 2023, directly be paid by NSFAS to qualifying students, and not by the NWU anymore. The NWU management has committed itself to do everything possible to ensure that the handover will go as smoothly as possible.
To give effect to this, a task team under the leadership of Ms Elmarie de Beer, executive director for finance and facilities was established and commenced with daily meetings on 21 July. These meetings include management, SRC representatives, NSFAS representatives as well as Norraco, the company contracted by NSFAS to handle the payments to approved NWU students/beneficiaries.
As of 18 July, NSFAS beneficiaries could register to activate their accounts with Norraco and receive their NSFAS mastercard.
In the interest of our students and the successful completion of the 2023 academic programme, the NWU Management continuously emphasised to both NSFAS and Norraco, the need to ensure that students are timeously assisted. We are pleased that most of the problems including the limited number of cards have been addressed. However, there are still some outstanding issues such as the problem of defunded students which are currently being handled with NSFAS.  In addition, 1 243 students are funded, but not included by NSFAS on the Norraco pay-file and therefore they are unable to activate their accounts.  This matter was escalated to the chief financial officer of NSFAS to be dealt with as a matter of urgency.
I want to thank students for their prompt reaction to our calls to register, but at the same time need to encourage students who have not started the process to do so as a matter of urgency. By close of business on 27 July, 21 517 students had already registered and will be able to access their funds on Monday, 31 July 2023. This is 83% of NWU NSFAS beneficiaries. Of these students, 9 743 were already issued with their mastercards. Please remember that a mastercard is not a prerequisite to access funds since cell phone banking is also available to all registered students.  
The process of issuing cards will continue until all NSFAS students who prefer having a mastercard have been issued with these. Norraco agents will again be on the NWU campuses on Saturday, 29 July to continue with the process.
Management is also very appreciative of the assistance provided by the SRC-President and the respective SCCs to ensure that this onboarding process can be successfully concluded.

It must be reiterated that no allowances will be paid by the NWU anymore. For any assistance regarding payments and related matters, kindly make use of the following options to contact Norraco:
Toll free: 0800 233 759
WhatsApp: 072 557 3085
Email: support@norraco.co.za
Norraco agents on each campus
Further updates from NSFAS regarding outstanding issues will be communicated to the affected students directly.
Regards
Elmarie de Beer
Executive Director: Finance and Facilities
 
More Norraco agents and allowances reminder
26 July 2023
As from 27 July, four more Norraco agents will be deployed on the Mahikeng Campus to assist students with collecting their cards. This will ensure that students can move through the line quicker.
Students are also reminded that it is not necessary to have been issued with a card to allow them to have access to their allowances once these are paid in. They can still make use of the online options.
Paying of allowances by NSFAS
19 July 2023
The North-West University (NWU) management had previously registered concerns regarding the NSFAS's proposed process to take over the payment allowances. It became evident during a meeting with the chair of the NSFAS Board on 30 June 2023, that NSFAS would proceed with implementation of payment of allowances directly to recipients of NSFAS funds despite objections.  NSFAS and the third-party service provider, Norraco, met on 17 July 2023 with NWU representatives with the objective to prepare for a smooth handover process that would be in the best interest of our students.
 
The NWU management is committed to do everything possible to ensure that the handover will go as smoothly as possible. Therefore, NSFAS students are encouraged to urgently apply for their NSFAS Mastercard as communicated below.
 
In addition, communication will be sent to all NSFAS students once Norraco representatives are available on all the NWU campuses as per NSFAS's commitment, to assist affected beneficiaries.
Everything you need to know about the NSFAS Mastercard and bank account
21 July 2023
NSFAS beneficiaries can apply now for their NSFAS Mastercard
18 July 2023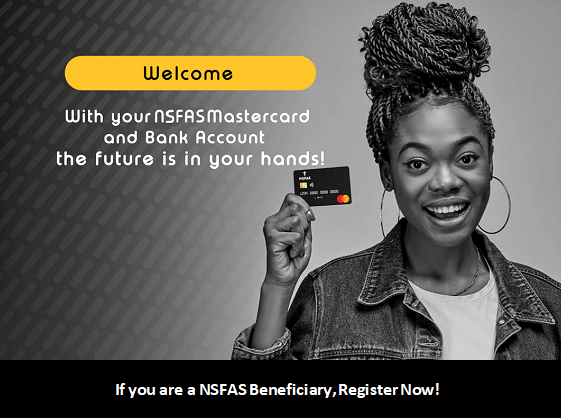 After engagements with NSFAS and Norraco, we encourage you to proceed with the onboarding process and apply for your NSFASMastercard.
To get started, please follow these easy steps:
Step 1 – Click on this link: https://transact.norraco.co.za
Step 2 – Click on "Register" button
Step 3 – Capture ID number and One Time Password (OTP)
Step 4 – Capture Password
Step 5 – Capture KYC (Know Your Customer) Info: a Selfie, Photos of your ID Card/ID Book and Proof of Residence.
Help is available at:
Toll free: 0800 233 759
WhatsApp: 072 557 3085
Email: support@norraco.co.za
Communication will be sent to all NSFAS students once Norraco representatives are available on campus for assistance.
Please note:
Your funds will only be released once you have completed the KYC (Know your Customer) authentication.  Please see Step 5 above.
Your funds will only be available as from the last day of the month and not before the 25th as was the norm with direct payment by the NWU.
NSFAS Mastercard
26 May 2023
We understand that Norraco has requested all NWU NSFAS students to register for the NSFAS Mastercard. However, we kindly ask you to postpone your registration until we provide further instructions.
NSFAS update
25 May 2023
Dear NSFAS Student
 
We would like to provide you with an update regarding the status of two categories of students: those who are registered with 60 credits or less, and those who were unfunded due to exceeding the R350,000 household income threshold.
 
For students registered with 60 credits or less, we want to assure you that the NWU will continue making payments until a review or final clarification is provided by NSFAS.  These payments will be processed by the end of this week.  Should there be any updates or changes in the ruling, we will promptly communicate them to you.
 
However, students whose household income exceeds the R350,000 threshold are no longer eligible for funding or allowances at all. The assessment of income was conducted by NSFAS based on the information reflected on the SARS ITA34 certificate of both parents. If the income indicated on this certificate does not exceed R350,000, we kindly request that you submit the relevant certificates to the following email addresses.   Please use your student number and ''NSFAS Rejected'' in the subject line. This will allow us to provide you with further guidance and support.
 
Please see below the definition of household income as per NSFAS Guidelines:

False information regarding NSFAS 2024 applications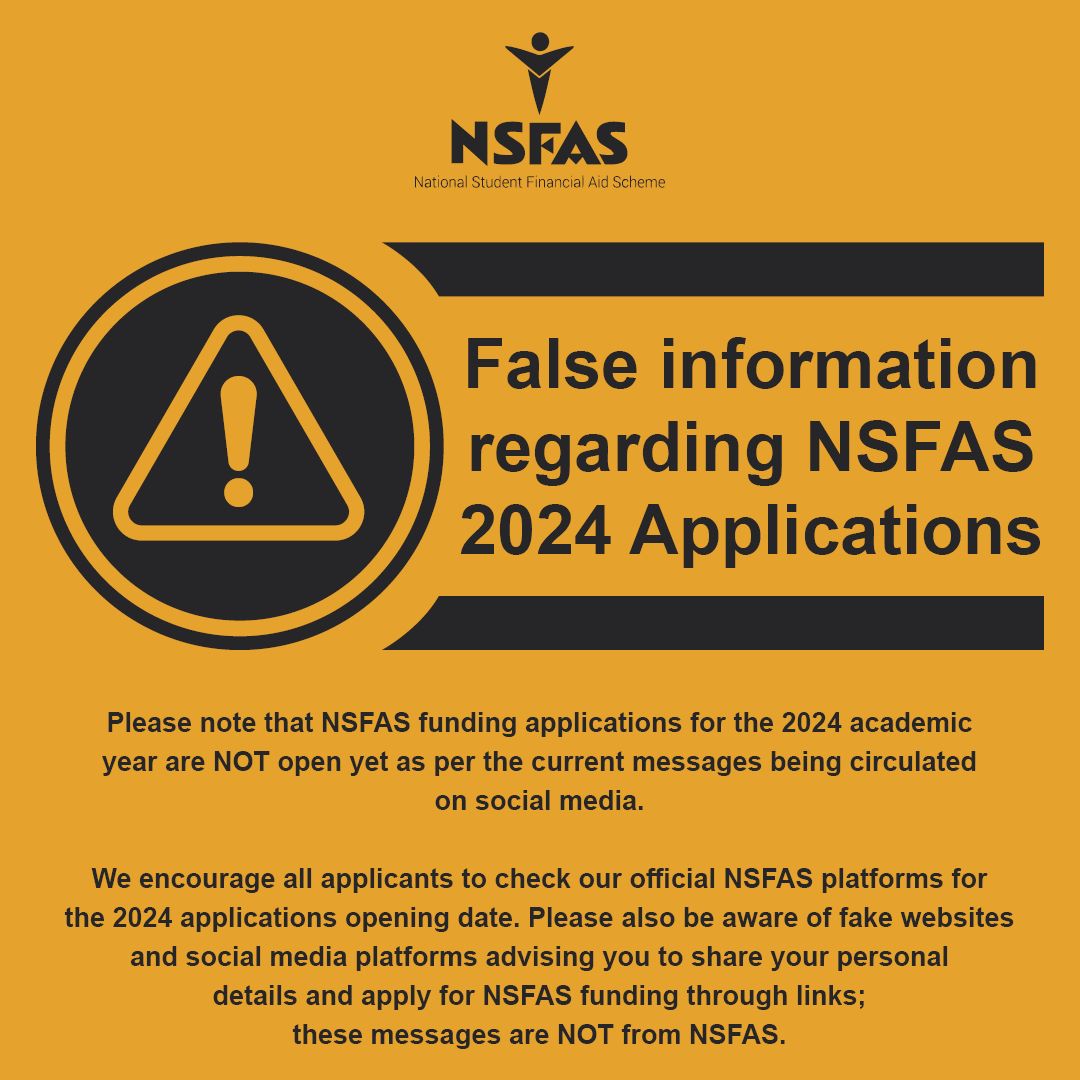 State of readiness of the National Student Financial Aid Scheme (NSFAS) for the academic year 2023
31 January 2023
Mr Ernest Khosa, Chairperson of NSFAS, addresses the issues of applications, budget allocation, submission of registration data between NSFAS and institutions, funding eligibility and criteria, assistive digital learning devices, student accommodation and NSFAS beneficiaries' responsibilities.