NSFAS announcements
Minister Blade Nzimande: NSFAS 2022 applications official opening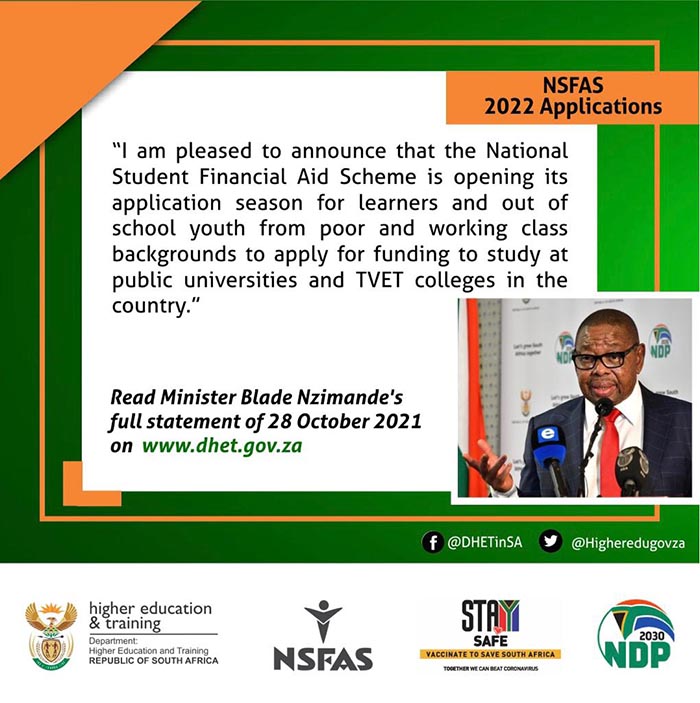 The applications system will be open from 2 November 2021 until 07 January 2022 when the NSC results are released.
Students qualify to get NSFAS funding if you are a South African citizen or permanent resident who plans on registering or already studying at a public university or TVET college in South Africa and they will fall within one or more of the below categories:
SASSA grant recipients (the SASSA COVID-19 grant does not count);
Persons whose combined household income is not more than R350 000 per year;
Persons living with disabilities with a combined household income not more than R600 000 per annum.
The correct supporting documents are important in ensuring that NSFAS process your funding application in time for your registration at an institution of higher learning.
Students must go through the list of required supporting documents that I will mention to ensure that they have all of them before they start with the application process:
All applicants must provide a copy of ID. A temporary ID issued by the Department of Home Affairs will be accepted;
Non-SASSA applicants must provide ID copies of parent/s, legal guardian/guardian or spouse;
Smart ID cards: a copy with both sides of the smart ID must be provided;
Proof of income: applicant and/or parents/legal guardian/spouse (where applicable (non-SASSA) should provide latest payslip not older 3 months, UIF letter, appointment letter, retrenchment letter (applicant and/or parent(s), legal guardian/spouse).

It must be noted that no affidavits will be accepted as proof for any funding requirement.
How and where to apply
YOU CAN APPLY ONLINE VIA WWW.NSFAS.ORG.ZA
USING A CELLPHONE, TABLET AND COMPUTER.
FOLLOW THESE SIMPLE STEPS TO APPLY:
Step 1: Go to www.nsfas.org.za and click on the 'myNSFAS' tab
Step 2: Create a myNSFAS account
Step 3: Click on the 'APPLY' tab and complete the sections on the screen
Step 4: Upload required supporting documents where applicable
Step 5: Click on 'Submit'
If you do not have a digital device or access to the internet, do not stress, simply pop into your nearest National Youth Development Agency (NYDA) or Thusong Centre to apply following the same steps.
Prospective students are urged to apply to institutions via their application processes for a study place, as funding is only offered to students who are eligible for funding from NSFAS (financial eligibility) and who obtain a firm place to study in an approved programme at a public institution. 
Prospective students can access the NSFAS application portal at (website address). www.nsfas.org.za
Who is NSFAS?
The National Student Financial Aid Scheme (NSFAS) is a public entity reporting to the Department of Higher Education and Training (DHET). It provides financial assistance in the form of study bursaries to qualifying students who plan to study at Technical and Vocational Education and Training (TVET) colleges and public universities.
This is what the scheme does:
Supports access to, and success in, higher education and training for students from poor and working-class families who would otherwise not be able to afford the cost of studying at a TVET college or university.
Provides bursaries to qualifying students at TVET colleges and public universities.
What does the NSFAS bursary cover?
To ensure that students get the most out of their studies, NSFAS makes their educational journey enjoyable and free of any financial burden by providing all necessary support from registration until graduation.
Students who are approved for NSFAS funding are covered for the following:
Registration fees
Tuition fees
They also receive allowances for the following:
Food
Personal care
Learning Material
Accommodation or transport
Extra support is provided to students living with disabilities, such as:
Medical assessments: The assessment is limited to one assessment for the duration of the qualification and on request by the Disability Unit/Student Support
Assistive devices: Limited to one assistive device for the duration of the qualification. 
Human support: To cover for the cost of human support such as a caregiver, guide-dog, scribe, tutor, or sign language interpreter.
Who qualifies for NSFAS funding?
You qualify for a NSFAS bursary if you are a South African citizen who plans to study at a public university or TVET college and you fall within one or more of the below categories:
All SASSA grant recipients
Applicants whose combined household income is not more than R350 000 per year
Persons with disabilities combined household income must not be more than R600 000 per year.
Students who started studying before 2018 and whose household income is not more than R122 000 per year.
Frequently Asked Questions (FAQs)
Do I need to apply for NSFAS funding again if I am currently funded by NSFAS?
No. Once you are approved for NSFAS funding, the funding covers you until you complete your qualification; provided you continue to meet the academic progression criteria. You just need to focus on studying and passing your modules to secure your continued funding.

I plan to register for two qualifications at the same time. Can I receive funding for both qualifications?
A student can only be funded for one qualification at one institution at any one time.

I was approved for NSFAS funding before, but never registered for that academic year; do I need to re-apply?
Yes, to receive NSFAS funding you will be required to apply again. Applications are currently closed, keep checking our website and social media for application dates.

I am an orphan (vulnerable child), how and where do I get hold of a social worker in order to complete a NSFAS application?
You may speak to a Life Orientation educator or principal to direct you to your nearest Department of Social Development (DSD) within the area.
 
Where can I study if I am approved for NSFAS funding?
Applicants who are approved for NSFAS funding must register to study at the following universities:
Cape Peninsula University of Technology
Central University of Technology
Durban University of Technology
Mangosuthu University of Technology
Nelson Mandela University
North-West University
Rhodes University
Sefako Makgatho Health Sciences University
Sol Plaatje University
Tshwane University of Technology
University of Cape Town
University of Fort Hare
University of Johannesburg
University of KwaZulu-Natal
University of Limpopo
University of Mpumalanga
University of Pretoria
University of South Africa (UNISA)
University of Stellenbosch
University of the Free State
University of the Western Cape
University of the Witwatersrand
University of Venda
University of Zululand
Vaal University of Technology
Walter Sisulu University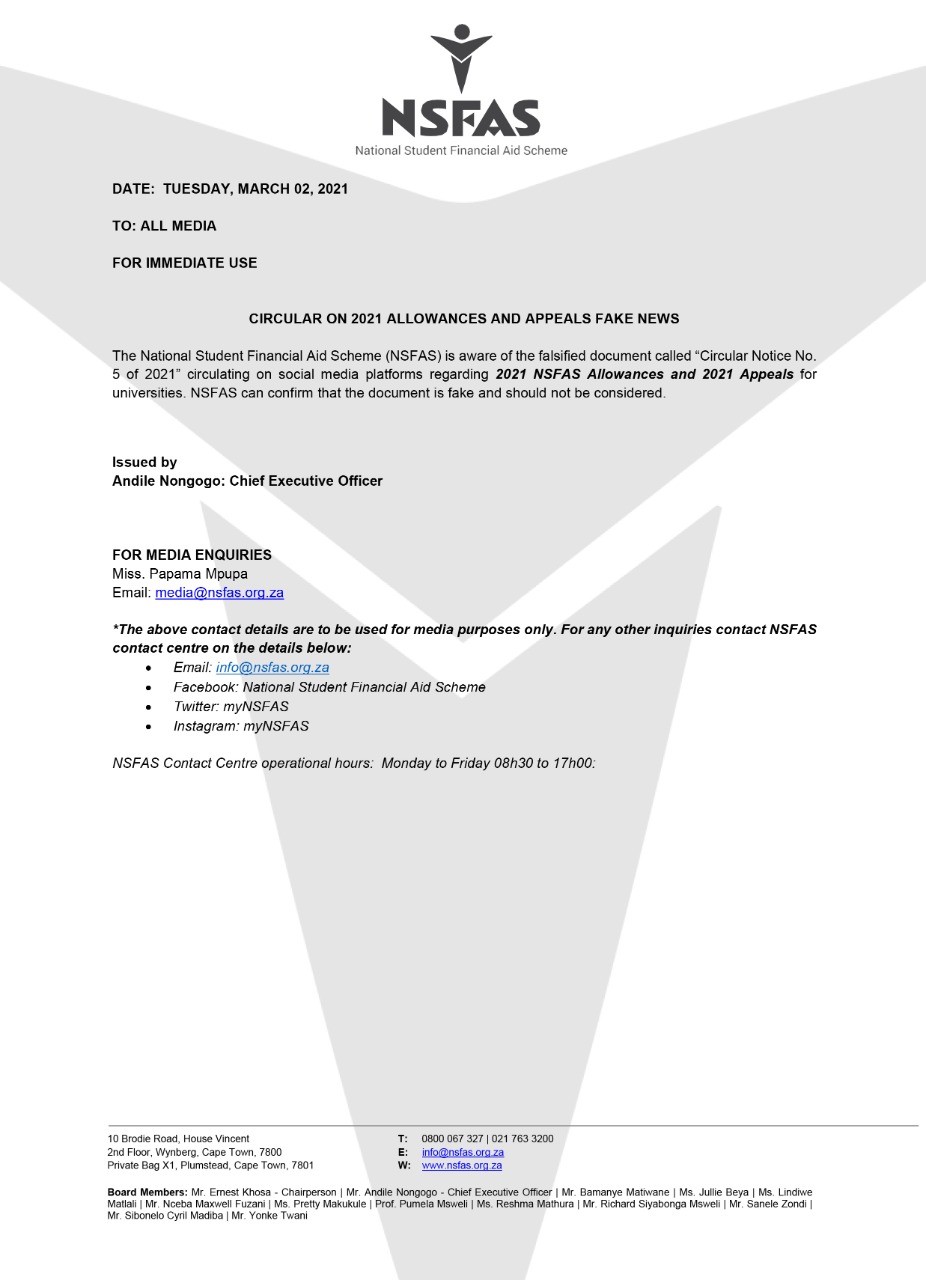 For more information on NSFAS funding go 
Facebook: National Student Financial Aid Scheme
Twitter page: @myNSFAS
Instagram: @myNSFAS
You can also visit the NSFAS website on www.nsfas.org.za for more information and frequently asked questions.
2021 Registered, yet unfunded students eligible for NSFAS funding
After careful consideration of the plight of the currently registered university students who were unable to apply for funding due to several reasons, the National Student Financial Aid Student Board resolved to grant a once-off opportunity for them to apply. This initiative is not intended to create any future precedence and has also factored in, among other things, the scheme's available funds. This provision is aimed at alleviating the financial burden of eligible and deserving students and also minimising the burden of student debt.
This concession is applied only to qualifying students who are registered in the 2021 academic year, are without any other form of bursary or requisite financial support and have an annual household income of less than R350 000. Senior Students also have to have passed at least 50% of their previous year's modules. 
Of importance is to note that this is not an appeals process.
Students who consider themselves eligible to qualify, must send their student information (name and surname and student nr) to the following email addresses:
Mahikeng Campus: mc-undergradburs@nwu.ac.za
Potchefstroom Campus: PUK-UnderGradBurs@nwu.ac.za
Vanderbijlpark Campus: vc-undergradburs@nwu.ac.za
Please use NSFAS August Applications in the subject line.
We need your information before close of business on 16 August 2021. No late submissions will be considered. The final NSFAS-application process will be communicated to the qualifying students on 17 August 2021.
Student appeals process
The NSFAS Appeals Policy makes provision for students whose applicationfor funding has been rejected, to submit an appeal application.
Closing dates
Student submit appeals to Financial Aid Office: 15 May 2021
Financial Aid Office submits applications to NSFAS: 30 May 2021
All appeals must be submitted via platform for online submission by 30 May 2021. The portal will close at midnight.
Understanding rejected reasons and required documents
Change in Financial circumstances
REJECTION REASON
REQUIRED DOCUMENTS

Income above threshold exceeds R122 000 per annum – PRIOR TO 2018
Income above threshold exceeds R350 000 per annum
Income above threshold exceeds R600 000 per annum – PERSONS WITH DISABILITY

Student to submit any documentation in support
of your appeal, for example:

UIF Letter; Payslips; Death Certificate; Divorce Decree Retrenchment letter; SASSA Letter; Self-employed: Bank statements (3 months); Medical Certificate/Report

As a rule, we do not accept affidavits. Student to provide detailed information for their appeal.

Loss of bursary sponsor
REJECTION REASON
REQUIRED DOCUMENTS

Student to submit any documentation in support of your appeal, for example:

Proof of termination of sponsorship
Completed and signed manual application forms with supporting documents

Send these applications to your servicing agent for further processing.

Failure to meet academic performance requirements
| | |
| --- | --- |
| REJECTION REASON | REQUIRED DOCUMENTS |
| Failure to meet academic performance requirements | These may include, but not be limited to, medical conditions, death of an immediate family member, etc. Please submit  substantive documents to provide proof of these circumstances to FAO. |
 
Incorrect academic results submitted resulting in non renewal of funding
| | |
| --- | --- |
| REJECTION REASON | REQUIRED DOCUMENTS |
| Incorrect academic results submitted resulting in non renewal of funding | Student to submit any documentation in support of your appeal, such as an official academic result transcript for example. |
Appeal form
Submit your appeal form together with attachments to your Financial Aid Office: