Inclusivity and an appreciation for our differences make the North-West University (NWU) a family that strives for excellence. That is why the NWU is hosting Gender Awareness Week (GAW) from 6 to 13 August 2021.
Gender awareness and art
Virtual presentation: Art, LGBTQ+ equality and the Constitution (13 August 2021, 12:00-13:00)
13 August 2021
12:00-13:00
In this presentation, Francois Lion-Cachet explores how queer rights are visualised at South Africa's highest court, through artworks that form part of the Constitutional Court Art Collection (CCAC) that speak to LGBTQ+ and gender issues. The equality clause in the Constitution and related landmark Constitutional Court cases for LGBTQ+ equality are also addressed. The notion of inclusive spaces will also be touched on, including the architectural design of the Constitutional Court, but also the work and exhibitions of the NWU Gallery.
This event will take place via Zoom. Please register here.
Short bio: Lion-Cachet, who completed his LLB and LLM at the NWU, is former public programmes coordinator at the NWU Gallery and has since 2018 worked as assistant curator at the Constitutional Court Trust, custodian of the Constitutional Court Art Collection (CCAC). His research interests include how constitutional democracy is visualised in South Africa and what this aesthetic conception means for our understanding and the deliverance of justice. He is part of the NWU Gender Benefit Network, of which a delegation met with LGBTQ+ rights champion Justice Edwin Cameron at the Constitutional Court in 2019.
Online art Exhibitions (9 August - 17 September 2021)

Mantariana Mbokodo Musings
Smile Artists Africa, in collaboration with the North-West University (NWU) Gallery celebrates women's Month with a showcase of the "Mantariana Mbokodo Musings" Art Exhibition to be held at the Potchefstroom Campus of the NWU from 9 August 2021 and closing on 17 September 2021.
"Mantariana" celebrates originality, unique creativity, and individual expression. "Mbokodo" on the other hand lays acclaim to the collective power and strength of women. The exhibition is therefore the perfect marriage of "Mantariana Mbokodo" as a collection and celebration of artistic work from five South African female artists, highlighting their unique craft, and the evolution of art and women in South Africa. View this exhibition here
Not another hair show
NOT ANOTHER HAIR SHOW emerges as an exhibition derived from the dissertation titled: HAIR POLITICS: AN EXAMINATION OF THE AESTHETICS OF BLACK FEMALE HAIR IN THE WORK OF SELECT AFRICAN ARTISTS. Written by Tshegofatso Seoka, the dissertation highlights the politics of black hair and hairstyling practices and choices, interrogating the dynamics of beauty within various socio -specific communities in Africa and the diaspora. View this exhibition here
Women in  science, technology, engineering and mathematics (STEM)
There is ample proof that diversity in the workplace leads to better products catering for a wider audience. While boys in general tend to be more confident in their analytical skills, girls are usually equally able to apply analytical thinking with a touch of creativity, but often lack the confidence to venture into the careers in science, technology, engineering and mathematics (STEM). The science, technology and engineering sector desperately needs the creativity and diversity in approaches that women bring to the table in order to solve future problems. It is also a field in which women can really excel. 
Femmegineering (9-13 August 2021)
9- 13 August
Since 2015, the Femmegineering event is annually hosted in women's month (August) at the faculty's facilities in Potchefstroom and in 2020 we moved online in response to the COVID-19 pandemic. Since we were able to reach a much wider audience of girls from all over South Africa and our neighbouring countries, we plan to (at least in part) host it virtually again this year. Read more
To attend Femmegineering 2021, please register here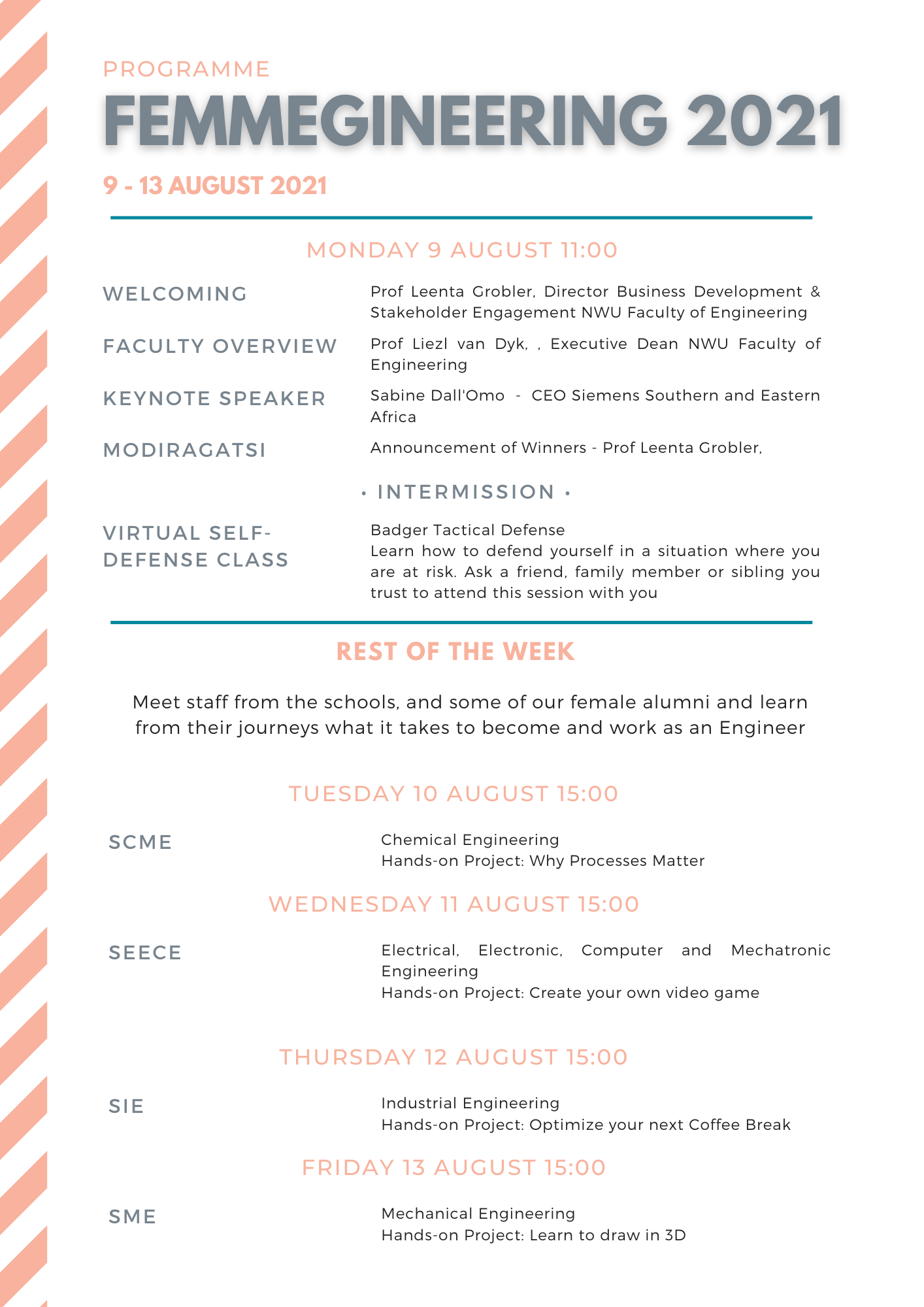 ---
Modiragatsi (June & July 2021)
June and July 2021
Modiragatsi is an innovation competition for scholars between the ages of 15 and 18 hosted by the NWU Faculty of Engineering and sponsored by merSETA. We hope to inspire the youth of South Africa to identify a problem that they care about and develop a conceptual solution. Read more
Meet NWU women in STEM (August 2021)
Prof Leenta Grobler, Engineering
Motivational message to all females who wish to pursue a career in the sciences
Mrs Mia Mangaroo-Pillay, Industrial Engineering
Inspirational message for young girls who wish to pursue a career as an engineer
Prof Sithandiwe Mazibuko-Mbeje, Physical and Chemical Sciences
Accomplishments and a message to our youth
Dr Christine Taljaard-Krugell, Nutrition
Optimum nutrition for all
Mrs Martine Voster, Pharmacy.
The Reality of Intangibles (The Role of Gender in Mental Health)
 

Webinars and initiatives
Webinar: Non-Traditional Sexuality & Gender Identities (6 August 2021, 08:30-12:00)
6 Aug 2021
08:30 – 12:00
Understanding sexuality and gender identity in society and the workplace. To create a better understanding of terminology & concepts regarding human sexuality. To promote understanding & tolerance; empowerment towards a healthier, accommodating, constructive working environment.
Programme topics include the below and there will also be a panel discussion.
1. Basic concepts of sexuality (Prof Tiaan Brink, NWU)
2. Psychology: understanding the person (Mr Xander Flemming, NWU)
3. "Straight expectations" in higher education (Prof Jacques Rothmann, NWU and Dr Letitia Smuts, UJ)
4. Responses and approaches
Webinar: Philosophy and Gender (10 August 2021, 10:00 -11:30)
10 August 2021
10:00 – 11:30
Gender in philosophy: How far have we come? – Prof. Chantelle Gray
This talk gives a broad overview of gender-related issues in the field of philosophy, tackling issues like representation in curricula and conferences; citational politics; theoretical developments and persistent obstacles.
Women in environmental philosophy – Dr Yolandi Coetzer
It is no secret that philosophy has, for literal millennia, been a male-dominated field, and the relatively young field of environmental philosophy is no different. In this talk, however, I aim to highlight the contributions of women philosophers to the field of environmental philosophy, showing how the contributions of women have been necessary to grow the related fields known as 'ecofeminism' and 'ecowomanism'. This talk will show how these scholars have challenged the patriarchal assumptions inherent in the field, and how their perspectives differ from the dominant male voices.
Queerness and the digital frontier – Dr Jean du Toit

The virtual has become a new space for ideological heteronormativity, and cyberspace increasingly plays host to an insidious rhetoric that exhorts heterosexuality as a norm. However, by rethinking the virtual we may mobilise it to support and facilitate queering in contemporary societies and may positively counter such fixed heteronormative categories of social life.
Women's (in)visibility in African Philosophy – Aïda Terblanche-Greeff
Great strides have been made in the decolonisation of philosophy, with African philosophy receiving more attention. It must, however, be noted that we still have a long way to go with regards to women in African philosophy which remains in the shadows. By refocusing on female philosophers, we can significantly contribute to the global academic discussion.
Register for the Philosphy and Gender Webinars
Personal Care Drive (August 2021)
The ASA/SCs from the Faculties of Natural and Agricultural Sciences, Health Sciences, Humanities and Engineering are joining hands to celebrate Gender Awareness Week at the NWU. This celebration is a show of support to the youth in our committees in need of personal care products. During this drive, our students aim to collect essential personal care items and then distribute them to schools in the Potchefstroom, Mahikeng and Vanderbijlpark communities.
Products we are looking to collect:
Soap/body wash

Shampoo

Deodorant

Toothpaste

Toothbrush

Tissues

Toilet paper

Facemasks and sanitiser

Feminine hygiene products
How the drive works:
Our students will place branded boxes on our campuses and in and around our committees. Everyone willing to donate can place their donations in these boxes. Our students will collect all donations and ensure that they delivered. 
Women's month at NWU (August 2021)

As we commemorate Women's Month, the North-West University (NWU) commends and salutes all the homemakers, trailblazers and groundbreakers in our homes, families, university, and communities. The NWU is filled with phenomenal women who have made great strides in their respective disciplines. Their diversity is as vast and valuable as the sectors in which they serve, and we continue to look at them for inspiration and guidance. Read more
Contact details for enquiries
Gender Awareness Week co-ordinator