The Convocation consists of former students (alumni) who have obtained a degree or diploma from the NWU or its predecessors, as well as all current members of the University's permanent staff.
Membership can only be obtained through a formal application and payment of the prescribed fee of R50 for lifelong membership.  It is a statutory body of the NWU, meaning it is recognised in the University's statute as part of the formal governance framework.
The purpose of the Convocation is to promote the well-being of the NWU by safeguarding its image, traditions and interests and by serving as a bridge between members of the Convocation and the University. The Convocation is represented on the University Council and also works closely with other structures such as the Alumni Association that promotes interaction between the University and its alumni.
Please click here to read the section of the NWU Statute that refers to the Convocation.
Convocation News:
A new Executive Committee for the NWU Convocation was elected at the triennial general meeting of the Convocation on 10 March 2018.
The final results for the new Executive Committee for the Convocation elected:
| | |
| --- | --- |
| President:         | Mr  Bert Sorgdrager |
| Vice-President:     | Mr  Nelson Mongale |
| Bursar:   | Mr  Werner Human |
| Members of Exco:  | Ms  Karien Brits, Adv Marlize Kruger,  Mr  Paul Maritz,  Mr  Cecil Ramonotsi,  Mr  Frik van Deventer |
We look forward to their contribution to the NWU Convocation.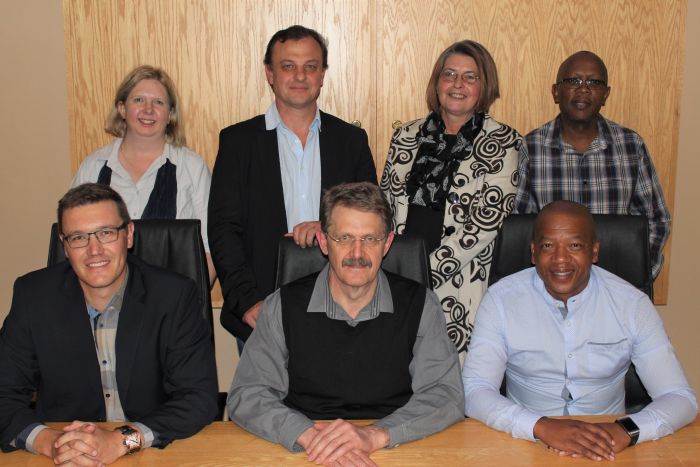 First row – left to right:
Mr Werner Human (Bursar), Mr Bert Sorgdrager (President), Mr Nelson Mongale (Vice-President)
Second row – left to right:
Ms Karien Brits, Mr Frik van Deventer, Adv Marlizé Kruger and Mr Cecil Ramonotsi. (Mr Paul Maritz was not present when the photo was taken.)
2018.03.20