As we commemorate Women's Day, we salute women who have played and continue to play an important role in our families, our university, our communities and our country. We do so by taking stock of their achievements and the strides they have made in overcoming systemic barriers while continuing to flourish and inspire.
At the NWU, there are countless individual women – students, staff, alumni, council members, supporters and friends – who have made a tremendous and trailblazing impact across many disciplines. Their diversity is as vast and valuable as the sectors in which they serve, and we continue to look at them for inspiration and guidance. 
Given the current spate of gender-based violence perpetrated against women and girls in South Africa, today is also an opportunity for all of us to step to the fore and be counted as advocates and stewards of equality.  
Today, we raise our voices on behalf of all women. #NWUcares
Keep an eye on this space as more #NWUWomen and their amazing stories will be added.
Yvonne Kgwarae: NWU alumna recognised for outstanding work on HIV prevention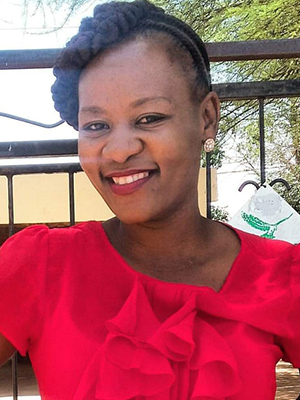 North-West University (NWU) alumna Yvonne Kgwarae was recently recognised for her outstanding work in HIV prevention in Botswana by the organisation Young 1ove.
Yvonne was recognised for her efforts in making a difference in the Republic of Botswana by running national HIV prevention and treatment programmes through a trust called Kula BW Foundation.
Through this trust she works with various government departments, home-based organisations and NGO's to educate Botswana citizens on the dangers of HIV/Aids.
She is also involved in localising international HIV/Aids priorities to benefit communities across Botswana and especially those less fortunate. Yvonne says she enjoys doing this work.
"I enjoy doing work that is meaningful and impacts lives daily. Since Botswana was hit hard by the HIV epidemic, I decided to use my skills and knowledge to help," she says.
"The idea is to work towards attaining zero new infections by 2030, and to ensure that our people don't die from an ailment that can be managed easily."
More about Yvonne Kgwarae
Yvonne holds a BA degree in social science from the NWU. She is currently pursuing a master's degree in research and public policy at the University of Botswana.
She has worked for the Centre for Communication programmes at the John Hopkins University, the Botswana Network of Aids Service Organisation, the Botswana Family Welfare Association, and the Human Resources Development Council, among others.
She is currently the chairperson of the NWU Alumni Botswana Chapter.
Chanell Meijer: Against all odds: not only surviving, but thriving!
Six years after sustaining life-altering injuries in a serious cycling accident, Chanell Meijer is ready to yet again define the odds. At the start of the 2020 academic year of the North-West University's (NWU's) campus in Vanderbijlpark, Chanell enrolled for a master's degree in education.
In 2015 Chanell, an alumna of the NWU, made national headlines when she – at that stage still wheelchair bound after her accident - obtained her honours degree in education.
Life-changing moment
In 2014 Chanell was in her prime as a competitive athlete, enjoying applause as an accomplished triathlete, long-distance runner, hockey player, tennis professional, and experienced sports coach. As a teacher at Sasolburg High School, she not only helped to shape young minds academically, but also shared her passion for sport as a hands-on coach.
This all changed on 19 December 2014.
On her way back from a 100 km training ride, Chanell was knocked down in Vanderbijlpark by a motorist who skipped a stop street. She was airlifted to a hospital in Alberton, put on life support, and remained in a coma for close to 90 days. Neurologists established that she had suffered severe brain damage as a result of the accident.
 A fighting spirit
 But Chanell is not a quitter. Although in a comatose state, she started breathing on her own a mere 26 days after the accident. Her parents, Pieter and Yvonne Meijer, believe their only daughter's fighting spirit empowered her to not only survive but thrive after the most challenging physical test of her life.
 "Already on the very day of her accident, prayer groups were formed around the world and as a family we were engulfed by the support of the community and the South African sports fraternity," says Yvonne. While her doctors weren't optimistic about her chances of recovering, Chanell, against all odds, miraculously opened her eyes one day and tried to speak.
 Her new normal
 "The accident made me a new person," says Chanell and explains that at the age of 32 she was like a baby who had to learn how to eat, walk and speak all over again.
 She admits that although her road to recovery has been difficult, she sourced strength from her family and the many wonderful people who supported her. The realisation that she had been given a second lease on life and that there was no going back to the "old Chanell", motivated her to be patient.
The future awaits
And what does the future hold for Chanell? She answers that she is excited about the prospect of studying again, she wants to take on long-distance running and ultimately – one day – register for the Comrades Marathon. Knowing Chanell, these dreams will definitely be realised!
Another win for NWU's Penelope Motshwene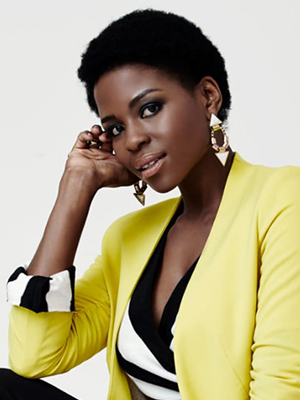 Penelope Motshwene, who heads the Disability Rights Unit at the North-West University's (NWU's) campus in Potchefstroom, has proven time and again that dreams do come true.
Earlier this year she was announced as one of the Playtex ambassadors for 2020.
The female underwear brand was looking for fearless women who wear their product on a daily basis; women who can show how diverse the brand is and confident with how their underwear fits.
"Growing up with a bust bigger than most women my age and body size, it was difficult to find a brand other than Playtex that suited me," says Penelope. "I felt the campaign resonates so much with my heart as it seemed to address a battle that most women have."
She entered the competition and told her story together with thousands of other South African women. After a rigorous selection process, she found herself in the top 12, then the top 5, and subsequently won the campaign.
"This has been such an amazing experience. It proves that nothing is impossible. I am so excited that an ordinary woman like myself got the chance to model for such a big brand," says Penelope.
Dreams delayed are not dreams denied
Coming from KwaNdebele, a small village in Mpumalanga, Penelope studied at the University of Pretoria where she obtained her degree in social work.
She says she has always wanted to be a model, but did not have the confidence to initially follow this dream. As she got older she started having the courage to chase after what she wanted.
"Fortunately, the universe gives you what you have the courage to ask for." In 2016 she was announced as the Face of Avroy Shlain Skincare Range and the Face of Clicks in 2017.
Penelope adds that young women who look up to her should pursue what they love and are passionate about. "God has given us the ability to see our dreams through and make them a reality."