NWU supports new BRICS university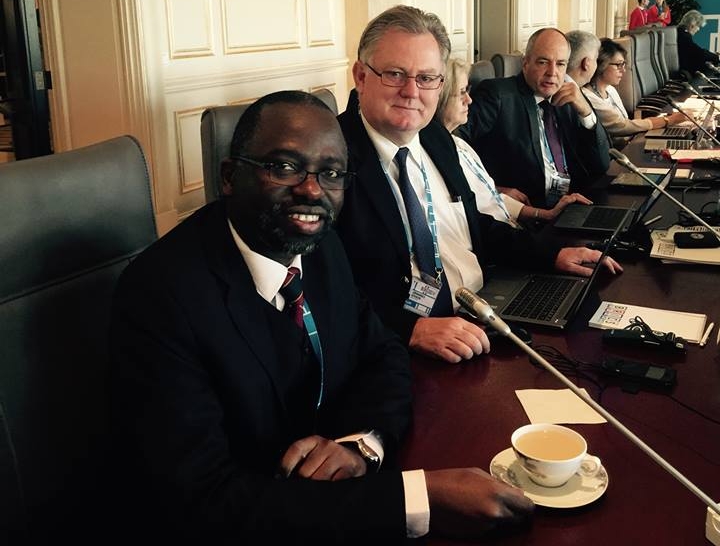 Theo Bekker of the NWU and Prof Tshilidzi Marwala of the University of Johannesburg at the meeting on establishment of the BRICS Network University in Moscow.
September 2015 - Long-awaited consultations for the establishment of a virtual BRICS Network University are currently under way in Moscow, Russia, where the North-West University will clearly leave its mark on the international front.
Prof Dan Kgwadi, Vice-Chancellor of the North-West University, is represented by Theo Bekker, Director Strategic Projects at the NWU, at this historic assembly of world leaders in higher education. The BRICS delegates represent the higher education sectors of Brazil, Russia, India China and South Africa.
According to Bekker, the Memorandum of Understanding between these countries in which every country pledges its support for the establishment of a first-ever university just been signed. Bekker says it is crucially important for local universities to become involved in the tertiary education arm of BRICS because there is much to be learnt from one another. "The opportunities among these partners are legion and can only be to the advantage of every university's profile."
The Brics Network University will follow the model of an open-education project and will focus on the development of master's and doctoral programmes in a range of disciplines. According to Bekker much emphasis will be placed on unrestricted access to and quality of the programmes. He says the NWU has identified the valuable opportunities of liaison with BRICS universities some time ago. "The North-West University, in turn, recently established a new digital platform precisely to take interaction with universities in BRICS countries to new heights. The priority is to offer support for joint projects, training and research, and strategic interests across all BRICS borders. The NWU regards this as the first step towards cooperation with BRICS universities."
The North-West University already has various agreements with universities from these countries, but according to Bekker it will blow new life into these opportunities in order to create even more mutual opportunities. "Therefore, the establishment of a Brics Network University can only be advantageous and offer the opportunity for accelerated discussions, agreements and exchange programmes," says Bekker.