DHET Bursary scheme allowances for contact university students in 2019

The Department of Higher Education and Training has issued a table that provides an indication of the Rand-amounts for the different categories of allowances applicable to contact students for the 2019 academic year who are on the DHET bursary scheme.
---

Make A Difference in 2020
Apply Now
#nsfas2020
Applications close 30 November 2019
Apply for NSFAS funding and make your 2020 academic journey comfortable 
The South African Government is aware most households struggle to pay the hefty academic costs for their kids to complete their desired qualifications. This is why the National Student Financial Aid scheme (NSFAS) is tasked with ensuring that no deserving student is barred from achieving their dreams due to their poor financial background. NSFAS administers funding for potential professionals from poor and working-class families who can't afford study fees on behalf of the Department of Higher Education, Science and Technology.
 
Who qualifies for the NSFAS funding?
Any South African citizen who is currently studying or plans on studying at a public university or TVET college. 
The combined household income of the applicant who has registered at a public institution from 2018 or plans to register in 2020 for the first time must not exceed R350 000 per annum
The combined household income of an applicant who has registered prior to 2018 must not exceed R122 000 per annum
The combined household income of persons with disabilities must not exceeding R600 000 per annum
Who should not apply?
Non-South African citizens
Students that have completed a previous university qualification, unless you are applying for an approved funded Post-graduate qualification
Students who have already applied, qualified and received funding for 2019. They are automatically funded for the duration of their studies, provided they pass their modules and meet the academic requirements
You will need the following supporting documents to apply:

All applicants are required to submit:
Certified copy of your ID, not older than 3 months
A signed and completed consent form  

If you are dependent on your parents/guardian/spouse, please provide:
Certified ID copies of parent/s, guardian, spouse not older than 3 months
Proof of income of parent, guardian or spouse (payslip or appointment letter)

If you are self-sufficient (no parent/guardian support) please provide:
Proof of income (payslip or appointment letter)
3yrs IRP5 

If you have a disability, please provide:
Completed and signed Annexure A (if your information is not pre-populated on the portal)

If you are an orphan, please provide:
Completed and signed Declaration Form

Other documents required, if applicable:
Retrenchment letter 
Death certificate/s 
Divorce decree 
* Note: If you are a SASSA recipient then no proof of income is required
Once approved for NSFAS funding, the bursary will pay for:
Registration fee, tuition fees, food, study material, personal care allowance, travelling and accommodation where necessary.
Statement by the Minister of Higher Education, Science and Technology
Don't just apply for yourself, tell your friends to tell their friends to apply too.
NSFAS contact details for more information:
Contact Centre Toll Free number: 08000 67327
Facebook: National Student Financial Aid Scheme
Instagram: myNSFAS
Twitter: myNSFAS
---
Announcements
January to March 2019
Beware of fraudsters - 12 April 2019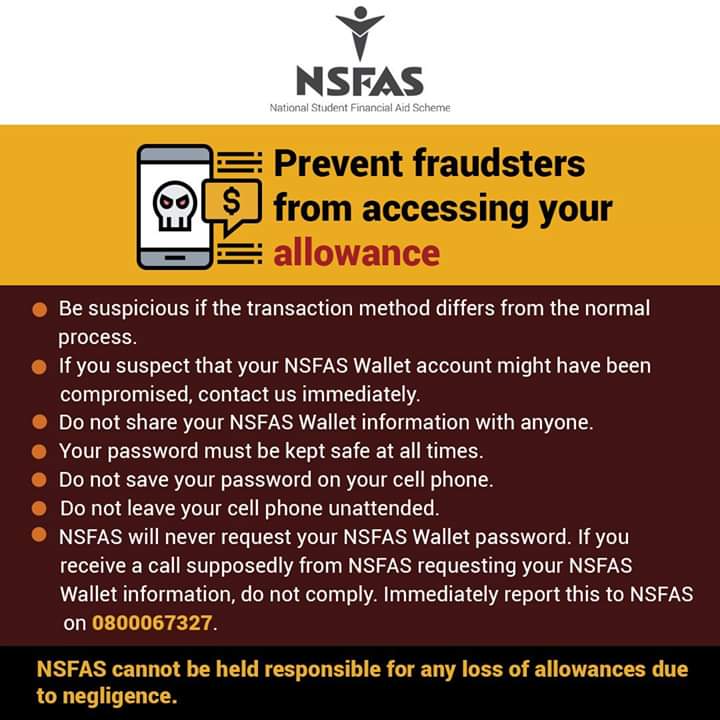 NSFAS update - 1 April 2019
All approved students will receive their food-and travel allowances before the 5th of April and thereafter before the 5th of every month.
Payments for private accommodation will be paid in four installments, March, April, July and September directly to the bank accounts of service providers of private accommodation. Payments for March are still in process and will be done in this week.
Important notice for approved NSFAS students - 7 March 2019
All approved NSFAS students have already received an upfront payment of R5 000 for books and R275 for living expenses. On the 1st & 2nd of March, another payment of R 1 000 was made to cover food and travel allowances.
Submission of lease agreements have closed on all campuses and we are therefore now in a position to identify the students who qualify for meal allowances and those that qualify for travel allowances. We are busy to process payments for the remainder of February and March. This amounts to R1 605 for food allowances to all students staying in residences and students staying in private accommodation. Students qualifying for travel allowances will receive R725. The payments will be made as soon as possible.
NSFAS students awaiting the outcome of appeals will still be allowed to submit their lease agreements and allowances will be made accordingly.
First-year Registration and Orientation meal deductions and senior students exceeding their NSFAS capped amount will be corrected over the remaining months of April until November.
Status on NSFAS cash allowances -7 February 2019
Cash allowances for 12 548 registered NSFAS Students were already transfered to Fundi for cash payouts of which 9 385 were successfully transfered to students' bank accounts, bringing the total payout to more than 75% of registered NSFAS students. However more than 3 000 students have not yet submitted their banking details.

 

Allowances for a further 3 617 registered NSFAS students will be transfered today to Fundi for payouts.

 

All students who have not submitted their banking details on the Fundi website yet, are requested to urgently do so to allow for the process to be completed.

 

Students who need assistance should go to the Student Accounts and Bursaries Office on their campus.
NSFAS completes review of rejected applications and prepares for appeals - 23 January 2019
The National Student Financial Aid Scheme (NSFAS) has completed all assessments of the 2019 applications of first time entering students. Of the 417 000 applications received, more than 300 000 students have been declared approved, pending registration at public institutions for NSFAS funded qualifications. Read more
Important information for NSFAS students - 18 January 2019
Important information for NSFAS students! Please download and read the document relevant to you: