Alan has his sights set on the hammer throw title at the Gold Coast 2018 Commonwealth Games, being held in Queensland, Australia from 4 to 15 April.
A final-year BEd student in Vanderbijlpark, Alan is in good form and his throw of 69,14 m at the end of last year saw him qualify for the games in Australia.
As part of the NWU athletics team, he and his team mates in Vanderbijlpark are coached by Basie Koen at the Sasolburg Technical High School Hammer Throw Academy. According to Alan, who has been participating in the sport since Grade 9, it takes a lot of hard work, a lot of training in the gym and a lot of practice to achieve success in the sport. He currently uses a 7,26 kg hammer.
Looking ahead to the Commonwealth Games, Alan says the key to success is focus. "I need to take it one throw at a time and take it from there," he concludes.
​

READY FOR THE COMMONWEALTH GAMES
Hammer thrower Alan Cumming is set to compete at the XXI Commonwealth Games.
Hover here to read more
With about 13 years of experience practising judo*, Chante-Louise has many achievements under her belt.
This BEd student in Potchefstroom started judo at the tender age of seven. She was introduced to the sport by her uncle, Anton Labuschagne, who is also her coach.
Hailing from a small town in the Free State, her sport has taken her to 13 different countries and brought her many medals.
Chante-Louise says her biggest accomplishment was making it to the finals in three out of four Junior African Championships. "I received two bronze medals and a silver, and my next goal is to come back with a gold medal from this year's Junior African Championships," she says.
In the next five years she sees herself reaching the prime of her sporting career and coaching up-and-coming sports stars.
*Judo is a sport of unarmed combat derived from ju-jitsu and intended to train the body and mind.
​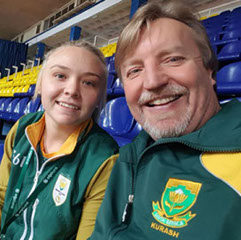 THE NEXT
AFRICAN CHAMP?
Judo participant Chante-Louise Labuschagne's uncle, Anton Labuschagne, is also her coach.
Hover here to read more
Boxing is still a male-dominated sport but Onalenna – from our campus in Mahikeng – has ambitious plans to become a professional female boxer, boxing promoter and ring official.
This master's student in statistics started her boxing career in 2011 with a fight that ended in a draw at the University the Witwatersrand. In 2014 she started participating in a number of University Sports South Africa (USSA) tournaments, as well as provincial and national championships.
Last year she was awarded a silver medal for being Sports Volunteer of the Year at the North West Province's 2017 Sports Awards.
Onalenna says she looks up to the internationally acclaimed boxing referee and judge, Sylvia Makaila, and wants to follow in her footsteps.
​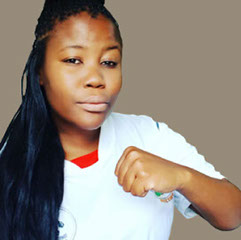 ONALENNA WANTS TO TURN PRO
Onalenna Tsae wants to become a professional boxer, boxing promoter and ring official.
Hover here to read more