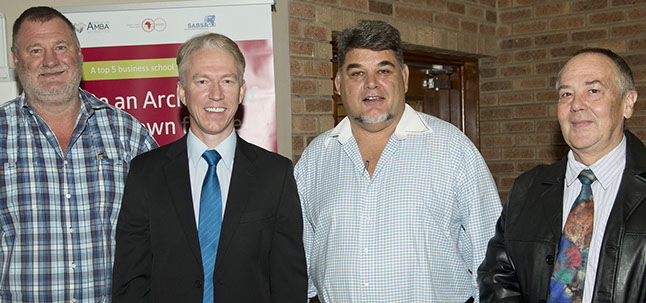 The NWU now has one unified business school. This comes after an announcement that the Potchefstroom Business School (PBS) on the Potchefstroom Campus and the Graduate School of Business and Government Leadership (GSBGL) on the Mafikeng Campus will from now on function as one and will be known as the North-West University School of Business and Governance.
Prof Tommy du Plessis, acting director of the newly unified school, announced its establishment during the opening of the MBA Study School in January, which staff and students attended. The guest speaker at this year's opening was Kevin Horsley, one of only a few people in the world who have received the title of International Grandmaster of Memory.
An answer to a challenge
The announcement about the unified school comes exactly a year after Prof Dan Kgwadi, NWU vice-chancellor, opened the MBA study week on 26 January 2015 in Potchefstroom and challenged the two business school directors to come up with a unification plan.
They took up the challenge. The NWU School of Business and Governance will have three sites of delivery – the Mafikeng, Potchefstroom and the Vaal Triangle campuses. "The three sites will differentiate themselves in their marketing and by serving specific market niches," says Tommy.
Programmes will be offered part time – on Saturday mornings in Afrikaans in Potchefstroom, Monday evenings in English at the Quest Conference Estate in Vanderbijlpark and in English over
selected weekends at the Leopard Park Golf Estate in Mahikeng.
Accreditation is paramount
The new business school's AMBA re-accreditation visit is due in October 2016. This accreditation is "non-negotiable" as far as the business school staff and management of the NWU are concerned. "It should be noted that the AMBA accreditation visit will include all three campuses, as all of them are sites of delivery for the MBA," says Tommy.
"The new level 9 MBA was introduced on 1 January 2016 and is 100% aligned on all three campuses, as is the PGDip (Postgraduate Diploma in Management), which is about 80% aligned (the only differences are the electives). So, as far as course content and assessment are concerned, the three campuses offer the same qualifications" says Prof Jan Meyer, acting director of the former GSBGL.
Lecturing facilities at all sites will be of international standard and will definitely meet the AMBA criteria. This refers to the aesthetic "look and feel" of the facilities, as well as technological advancement of equipment such as Wi-Fi and videoconferencing.
One unified
business school for NWU
Prof Tommy du Plessis,
acting director of the newly established NWU School of Business and Governance.
Attending the MBA opening on the Potchefstroom Campus are Prof Christo Bisschoff, manager of the MBA study school, Kevin Horsley, guest speaker, Prof Ronnie Lotriet, MBA programme manager, and Prof Jan Meyer from the Mafikeng site. The announcement of the newly formed NWU School of Business and Governance was made during the MBA opening.
Questions and answers
Tommy answers a few questions about the new business school.
Q: What excites you most about the unified business school?
A: The message of the unification comes a long way. We were initially worried about what the market's reaction would be and if potential students would embrace it. If we look at this year's enrolment figures it is clear that students are just as excited about it as we are. There has been a significant increase in student numbers.
The attitude of staff also makes me very proud. There is a wonderful sense of commitment from all to ensure our success on all three campuses.
Q: Any exciting new developments?
A: The Bachelor of Business Administration (BBA) degree is new for us. Other new programmes include the distance learning option for the postgraduate diploma. It is still a dream to offer a Master of Philosophy (MPhil) degree.
Q What will the focus point be?
A: We want a school that is not only internationally accredited but also internationally regarded for its quality. This is why we are going to focus on internationalisation through collaboration agreements with international business schools. We also want to make our mark on the African continent – it is a priority for us.
I believe we can also play a leading role in distance learning.
Q: What contribution does the new business school want to make to South African society?
A: We want to deliver students who have the ability to think strategically and become strategic leaders. All our programmes and modules aim to train students who will not only become good managers but are also able to lead with strategic thinking.
South Africa also needs entrepreneurs and we promote entrepreneurship in all its forms.
Thirdly we have gained a lot of experience in the training of public sector managers at the Mafikeng Campus. We aim to promote business sense among senior managers in that sector.