24 Annual SASA Congress
#WHATMUSTRISE
Critical Sociological Reflections on Contemporary Prostest Movements
Proudly hosted by the South African Sociologial Association and Sociology (Mafikeng)
Sunday 2 July – Wednesday 5 July 2017 
Central Lecture Block (CLB), Mafikeng Campus
---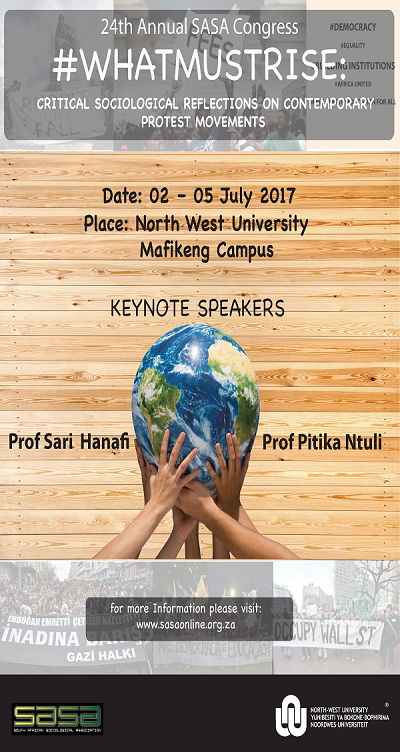 Most recently, South Africa has witnessed and experienced a new wave of protests centred on the hashtag (#) slogans, calling for an end to a or change in the prevailing unsatisfactory situation (be it political, educational, economic or even social). The new slogans were first coined by students within the tertiary and higher education sector, in protests against colonial and apartheid symbols as in the slogan #RhodesMustFall, and against the escalating educational costs in the slogan #FeesMustFall. These new slogans have since been appropriated by other societal sectors as represented by #DataMustFall against unreasonably high rates charged for access to internet, and by opposition political parties and civil society organisations through #ZuptaMustFall, in their call for an end to corrupt political leadership that colludes with corrupt big business. While these new slogans underpin the post-apartheid struggle meant to consolidate the hard earned democracy as well as to ensure that the government is accountable, they are however by no means new to South Africa. The anti-apartheid and political liberation struggle also harnessed similar slogans such as Down with Apartheid!, Down with Bantu Education!, Down with Pass Laws!, Phansi nge Apartheid, Phansi nge Bantu Education, and Down with Forced Removals. Through these slogans, they called for an end to apartheid and all its oppressive racist laws, and for the establishment of a democratic order. Similarly, other sectors such as labour unions used slogans such as Tools Down! and Chalks Down!, in their collective struggles against employers.
Common to all of these slogans is the call and demand for removal of something i.e. demand for transformative, radical change from the prevailing order to a desirable one. They also represent a rich tradition in South Africa of protest and resistance politics, and how this continue to inspire new forms of protests in the present post-apartheid period. While in the past, such slogans were often accompanied by others articulating the nature and kind desired change such as One Man, One Vote!, in demand for universal suffrage for all adult South Africans to have the right to vote; in the new wave of protests, it has seldom been made explicit what should be the substitution of the prevailing state of affairs (however implied). This has led to the coining of yet another slogan, #WhatMustRise, not by protesters themselves but as the theme for the annual Ahmed Kathrada Foundation Lecture, calling on the nation to figure out the desired change. It is in this spirit that the 24th annual SASA congress employs a similar theme in order to provide a platform for sociologists to engage in this national discourse through which they could contribute towards the shaping of the desired order. The relevance of this discourse is not applicable to South Africa but also to the global level. This is especially so in view of the present wave of ideological shifts in the United Kingdom, the United States of America and the former Western Europe, towards what is perceived as return to political conservatism. This as signified by the Brexit phenomenon and the triumph of the Republican Party in the USA led by Donald Trump (perceived as racist and xenophobic), and now the prospect of yet another conservative party victory in the upcoming French national elections.  The 2017SASA congress therefore would not only serve as a platform to reflect on the national scenario but also on the international one in view of these observed realities in the North. It is expected that research to be shared at this congress would address themselves a wide range of questions (directly and indirectly) related to these new developments. 
Professor Sari Hanafi of Lebanon, American University of Beirut, and Professor Pitika Ntuli of South Africa, will address the two main keynotes.
Keynote speakers
Call for papers
Registration information
Accommodation