About the eResearch Initiative (eRIn)
In July 2015 the NWU officially commenced with an eResearch drive that will ultimately help to align research support units and researchers across all disciplines to embrace the power of the digital world in the 21st century.  A NWU eReserach Initiative workgroup from IT, Library and Research and Research Support Office together with Anelda van der Walt has been established.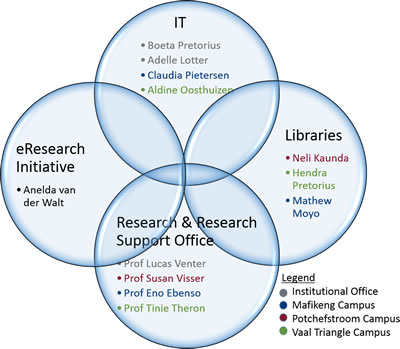 Planning initiatives
eRIn will focus on and plan the following key activities for 2016:
Key activities
Computational/Digital Research - The focus will be on analytical tools and infrastructure
Open Science
Research Data  - The focus will be on management, citation and storage
Reproducible Research
Funding - The focus will be on grant writing, untapped opportunities and partnerships
Focus areas
Training and Capacity Building
Awareness Creation
Community Building
Integration with National/International Communities/Partners
Sustainability – what happens with eResearch after 2016?
(Pronounced "Tekkies" or Takkies a.k.a Running Shoes)
Contact us
To contact us, please email eresearch@nwu.ac.za or follow us on Twitter @NWU_eResearch.