INSPIRE:
Europe and South Africa
Erasmus Mundus Sustainable Partnership For Human Development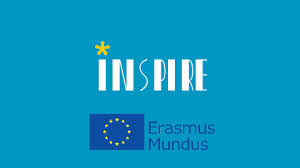 INternational Science Promoting Innovation and entREpreneurship
ERASMUS MUNDUS "INSPIRE" PROGRAMME – 2014/2015

This project is funded by the European Commission within the framework of the Erasmus Mundus Partnerships Programme.
The Erasmus Mundus Programme aims at enhancing the quality of higher education and promotes the dialogue and
understanding between people and cultures through mobility and academic cooperation. Action 2 Partnerships are the basis
for enhancing academic cooperation and exchanges of students and academics, contributing towards the socio-economic development of non-EU countries targeted by EU external cooperation policy.

INSPIRE is a new Programme which was introduced only in 2014 and this is the first call for applications. Until 2014, the scholarships were only granted to South Africans going to Europe. From 2014 European students and staff are also eligible to apply for scholarships to come to South African Universities to study or conduct research.
About INSPIRE (theme: "INternational Science Promoting Innovation and entREpreneurship"
NWU students and staff will be eligible to apply for this scholarship programme as part of the Target Group 2
category.
Uppsala University in Sweden is the European co-coordinating partner of INSPIRE with the University of the Western Cape (UWC) in Cape Town, the South African coordinating partner.

INSPIRE is a mobility programme offering study, training,exchange and research periods at INSPIRE Consortium universities in Europe for South African master's, doctoral candidates as well as post-doctoral fellows and staff members (both academic and non-academic) and also provides the same opportunities to Europeans wanting to come to South African Consortium partners for the same purpose.

In this call, scholarships will be granted for mobilities starting in 2015. Mobilities for South African grant holders can start as
soon as July 2015 (doctoral, post-doctoral and staff) and September 2015 (master's). European scholarship holders can start by early July 2015.
All mobilities (except staff members) will have to start before 31 December 2015.

The INSPIRE Programme will be curtailed on 14 July 2018 at which time ALL mobilities will end.
INternational Science Promoting Innovation and entREpreneurship is an Erasmus Mundus Action 2 project that has identified a very concrete and structurally important node for development of the South African knowledge triangle. In the intricate system of interaction between research, education and innovation INSPIRE will focus on the creation of and development of support structures that can transfer results from research into the private sector for refinement before product development to be used in industry.

The process of transferring science to be explored and commercialized is still underdeveloped and there is a need to develop good governance at universities in order to initiate and uphold partnerships between the public and private sectors.

The INSPIRE-project will tackle this issue by training South African students and staff within the EU-universities' innovation/ entrepreneur centres. INSPIRE will also, thanks to participating associate organizations, build a network for INSPIRE-alumni in which they can continue to grow personally and professionally.

The outcome of INSPIRE will leave South African Higher Education Institutions (HEIs) with highly trained administrative staff that can run an innovation/tech-transfer office; with academic researchers and students that have studied in highly advanced universities in Europe and been educated in the process of transferring science into viable businesses; and with an EU-South African network of universities that will continue to develop new modes of collaboration within the field of innovation and entrepreneurship.


The theme of INSPIRE is selected in order to promote Innovation and Entrepreneurship. In doing so INSPIRE has chosen to give priority to a number of academic themes that align themselves with the priorities set for innovation in thedevelopment strategy of the South African Department of Science and Technology for the period 2011-2016.

INSPIRE has four Thematic Topics
Space Science and Technology

Hydrogen and Energy

Biotechnology and Health Innovation

Innovation Instruments and Planning

For more information please click on the partner university link: http://inspiresouthafrica.eu/apply


Partners

The partnership is coordinated by Uppsala University in Sweden, whereas the University of Western Cape (UWC) in Cape Town (South Africa) acts as joint coordinator.

The consortium consists of ten South African and eight European Higher Education Institutions and is supported by three associated partners:

European Universities:

Uppsala University, Sweden – Coordinator
Ghent University, Belgium
University of Groningen, The Netherlands
Göttingen University, Germany
Telecom, Bretagne, France
University Valadolid, Spain
Mazaryk University, Czech Republic
Evotvos Lorand University, Hungary
South African Universities:

University of the Western Cape (Joint coordinator)
University of Cape Town
University of Stellenbosch
University of Northwest
University of Johannesburg
University of Fort Hare
University of KwaZulu-Natal
Central University of Technology
Durban University of Technology
Cape Peninsula University of Technology
Associated Partners:
 
Mobility is defined as:

Mobility from South Africa to Europe (Master's, Doctorate, Postdoctoral fellowship, Staff);
All applicants must be South African nationals and can apply if they belong to Target Group I or II
Scholarships

The INSPIRE partnership awards are granted to support South African mobility to a European partner university at master's,
doctorate, postdoctoral fellowship and Staff level. Scholarships are granted for European mobility to a South African partner
university and for South African mobility to a EU university.

The duration of the mobility varies from one  to 34 months according to the level and the type of mobility. Grants include a
monthly subsistence allowance to cover your accommodation and living expenses, health insurance, participation fees (if
applicable) and travel costs.

The scholarship includes:
Subsistence allowance
1.000 EUR per month for Master's students
1.500 EUR per month for Doctoral students
1.800 EUR per month for Postdoctoral researchers
2.500 EUR per month for Staff

Insurance coverage

Participation fees (if applicable) . The INSPIRE programme can cover tuition fees between Euro 3 000 and Euro 9.000 for
degree seeking Master's students and for Doctoral candidates depending on the duration of the mobility (longer than 10 months) .
Tuition fees will be paid directly to the European host university.

One return ticket.

Number of Scholarships available to South African Nationals:

22 scholarships of one or two semesters for exchange studies at Master's level.

12 scholarships of six or ten months for exchanges at Doctoral level.
10 scholarships of six or ten months for research at Postdoctoral level.

10 scholarships of one month for Academic/Administrative Staff.
Number of Scholarships available to EU nationals:cholarships available to EU nationals:
8 scholarships of two  semesters for exchange studies at Master's level.
16 scholarships of ten months for exchanges at Doctoral  level.
8 scholarships of six or ten months research at Postdoctoral level.
20 scholarships of one month for Academic/Administrative Staff.

Calls for applications

The new Call for applications for South African Staff and students, will be opened on 20 November 2014 and will close on 15 March 2015.
Selection results will be published by the end of April 2015. Study periods in Europe will start in July/August2015. Available mobility scholarships can be found on the website see http://inspiresouthafrica.eu/institutions)

Application Process


All applications must be submitted online. Only complete applications will be reviewed. The applications will be evaluated on the following criteria:
Academic merit

Motivation for the mobility period

Research Plan

Contact

More information about the programme and the mobility
options at the different partner universities can be found on the
Website: see http://inspiresouthafrica.eu/institutions)

Other Scholarships by Country: