FACULTY OF LAW
Faculty News @ Law
---
A book to which Professor Louis J Kotze and Caiphas Brewsters Soyapi served as both editors and contributors has just been published by UNEP. The book examines new frontiers in the implementation of constitutional, international, and regional rights-based approaches to promote environmental protection. Much gratitude goes to the faculty as a whole for the support and to some specific faculty members for the contributions. These include Dr Paola Villavicencio Calzadilla, Prof Anél du Plessis, Dr WD Lubbe and Michelle Barnard.
---
The Faculty is proud of its Extraordinary Professor, Jonathan Verschuuren from the University of Tilburg who is the recipient of the 2017 IUCN Academy of Environmental Law's Senior Scholarship Prize. Prof Verschuuren has written more than 200 publications in the fields of environmental law, including many articles in outstanding refereed journals throughout the world. Some of his research themes include climate change, adaptation, coastal adaptation, geo-engineering, climate change and armed conflicts, biodiversity, European and International Environmental Law, Environmental Justice, and globalisation and the environment.
---
The Global Climate Change Week (GCCW) at the NWU, is part of a global initiative that will involve many universities and academics worldwide.
You can find more information here http://globalclimatechangeweek.com/about-gccw/
In sum, GCCW aims "to encourage academic communities – including academics, students, and professional staff at universities – in all disciplines and countries to engage with each other, their communities, and policy makers on climate change action and solutions. The GCCW provides an open-ended framework for voluntary activities aimed at raising awareness, inspiring behaviour change, and driving political transformation in relation to climate policy".
In this sense, this year the NWU will organize several activities (from 10 to17 October 2016) that aims to raise awareness on climate change issues within the university.....
https://www.facebook.com/climatechangenwu/ 
---
Congratulate Prof Louis Kotzè with the publication of his book, Global Environmental Constitutionalism in the Anthropocene (Hart, Oxford, 2016). We are proud of your achievement.
---
---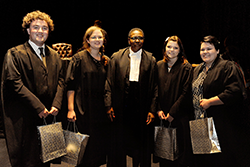 The Potchefstroom Campus team walked away with the title of 2016 NWU Juta Mock Trials winners. They are from left Mr Christoff Kalp, Ms Johandri Wright,  Ms Michell Brits  and Ms Marijke van Jaarsveld. With them is Justice Monica Leeuw, Judge President of the North-West High Court.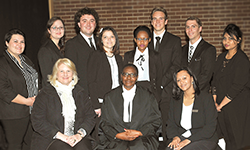 Members of the two teams that participated in the 2016 NWU Juta Mock Trials competition are at the back Ms Marijke van Jaarsveld, Ms Johandri Wright, Mr Christoff Kalp, Ms Michell Brits. Ms Thando Kunene, Mr Davin Olën, Mr Sergio dos Santos and Ms Asma Haffejee; with them are Prof Nicola Smit, dean of the Faculty of Law on the Potchefstroom Campus, Justice Monica Leeuw, Judge President of the North-West High Court, and Adv René Koraan, lecturer at the Faculty of Law.
---
Joint NWU and KAS Conference: Strengthening local government legislative authority in South Africa: implementation of bylaws - 21 July 2016 – Kumkani Country Lodge, Potchefstroom
Register here: http://bit.ly/299L5OA
---
---
EDOLAD is an innovative doctoral programme
Mrs van der Berg is a post-graduate doctoral student at the Faculty of Law, Potchefstroom Campus. In January 2016 Mrs van der Berg was chosen to participate in the prestigious joint European Doctorate in Law and Development (EDOLAD) programme. EDOLAD is an innovative doctoral programme in the field of Law and Development that forms part of an inter-university project of the North- West University (South Africa); Tilburg University (Netherlands); Edinburgh University (Scotland); University of Duesdo (Spain); University of Tartu (Estonia); and the University of Oslo (Norway). From January 2016 to May 2016 Mrs van der Berg participated in the EDOLAD Core Curriculum at the University of Tartu in Estonia and received training in research methodology in disciplines such as law and development, law and economics, law and anthropology, law and social development and fieldwork training. For more information on EDOLAD see: http://www.edolad.eu/
Mrs Angela van Berg

Minus 25 degrees Celcius in Tartu, Estonia

 

University of Tartu Main Building
---
Adv Seleka SC - Former student of the Faculty of Law
President Zuma granted Adv Pule Seleka senior counsel status on 1 June 2016. Adv Seleka SC is an advocate at Duma Nokwe Chambers in Johannesburg and received his LLB degree cum laude from the NWU in 2000. He served as research clerk to Chief Justice Chaskalson in 2001 and lectured at Wits School of Law in 2002. He was admitted to the Johannesburg Bar Council in 2001. The Faculty of Law is very proud of Adv Seleka SC and wishes him well on his career!
---
A DIALOGUE ON WHAT IT MEANS TO BE BLACK IN THE SOUTH AFRICAN ACADEMY?
The seminar is the result of a book project that has almost run its course and which involved biographical chapters on the topic:
"Transformation of South African institutions has been on the countries agenda since 1994.  This is evident in imperatives of the Employment Equity Act 55 of 1998, the Higher Education Act 101 of 1997 and others aimed to improve inclusion and social cohesion especially in South African workplaces.  Given the separatists ideas of apartheid, higher education institutions have also been implicated in calls for transformation.   Even though many of the 23 universities in South Africa have put forward initiatives towards transformation, the everyday experiences of blacks in many of these spaces have been precarious (Report of the Ministerial Committee on Transformation and Social Cohesion and the Elimination of Discrimination in Public Higher Education Institutions, 2008). Old ideas of who belongs and who should be excluded still colour the experiences of these women and men as both senior students and academics."
Presenters: Dr Edith Phaswana, Prof Katijah Khoza-Shangase, Adv René Koraan and Ms Allison Geduld.
---
Joint Workshop: Custom, Oral History and Law: Writing South African Legal History
Today, 27 May 2016 at the Joint Workshop between North-West University Faculty of Law and the University of Edinburgh @ Lemoenkloof Guest House and Conference Venue, Paarl.
Some of our lectures and postdoc students attend. With Proff Willemien du Plessis, Christa Rautenbach, Elmien du Plessis, Dr Anél Gildenhuys, Mr Philip Bothma and Mpho Tlale. From University of Edinburgh Prof Anne Griffiths and Dr Paul du Plessis.
---
University of Edinburgh - NWU:
Inter-campus postgraduate research workshop. With visiting lecturers form University of Edinburgh Dr Paul du Plessis and Prof Anne Griffiths.
---
Global environmental change: A warning for South Africa
Prof Louis Kotze
Like many other countries in the world, South Africa is not equipped to navigate the growing challenges of climate change and this is unlikely to change if the current trends persist. The country is currently ill-equipped to deal with the existing food and water shortage crises facing the country. Under normal circumstances communities living in Soweto and Ikageng do not have access to drinking water. If government cannot even address this challenge by means of its current service delivery responsibilities, how will it possibly be able to cope as climate change systematically worsens? Read more
---
Faculty joins the Academy of Food Law & Policy
The Faculty of Law recently joined the Academy of Food Law & Policy (AFLP). The AFLP was founded in 2016 in order to stimulate intellectual discourse in the academic field of food law and policy, to encourage scholarship and enhance teaching in this field, to support student interest and to otherwise promote this academic field. The Faculty of Law will be regarded as a founding institutional member of the AFLP. Other founding institutional members of the AFLP include Yale Law School, Harvard Law School and Pace Law School. Dr Anél Gildenhuys, prof Willemien du Plessis and prof Elmien du Plessis will act as faculty representatives for the period 2016-2017. For more information please visit http://www.academyflp.org.
---
---
GNHRE press release about the Draft Declaration on Human Rights and Climate Change
---
Postgraduate programme
---
Information for
  1st year students 2016
---
Faculty-of-Law-50-year-Celebration
---
The KAS and NWU Conference on Critical Law and Governance Perspectives on Food Security in South Africa 
---
Intercampus Research Day 12 June 2015 at Valley Lodge near Magaliesburg.
---
Prof Ig Vorster - In Memoriam
Prof Ig Vorster, a previous dean of the Faculty of Law, sadly passed away this morning. We would like to sympathise with his family, in particular his wife prof Estie Vorster. Anybody who had the privilege of attending his lectures or working with him will testify that prof Ig was a special person – not only excellent in his work but universally loved. His passing leaves a great void. Langehoven said that it is no art to die; even the worst amongst us manage that. To live is an art, and even the best amongst us do not manage this well. Prof Ig's life was an art treasure that we were lucky enough to share for a short while and which we will always appreciate and admire. The funeral is Tuesday, 12 May 11:00 at the tomb and 12:00 at the Reformed Church, Bult Molen Street, Potchefstroom.
---
Attend the Water Security Symposium themed "The North-South Dimensions of Water Security" jointly organized by the North-West University, Potchefstroom Campusand the University of Eastern Finland.
14-15 May 2015
Room 120 Faculty of Law
NWU Potchefstroom
---
Hennie Coetzee (far left), a LLD candidate from NWU and prof Elmien du Plessis (far right), a presenter of one of the core modules, at Tilburg University as part of the Edolad programme.
Career Fairs - 12 May
---
---
NWU Pukke Open Day - 9 May 2015
---
Ms Allison Geduld received the Institutional Emerging Teaching Excellence Award in April - congratulations!
---
Congratulations Prof Henk Kloppers with your Institutional Teaching Excellence Award!
---
Ms R Koraan was (again) chosen by the law students as recipient of the Rapport top lecturer award in our Faculty. Congratulations!
---
What a wonderful experience... Thank you very much ALL first year law lecturers, directors and deans from the three NWU campuses who attended the Alignment and Quality Workshop
21 April 2015
---
Prof Leonie Stander
will visit the University of Boulder, Denver, USA from  21 March to 30 April 2015 in order to conduct some research. 
---
Professors Robbie Robinson and Christa Rautenbach attended the book launch of 'The Law of Divorce and Dissolution of Life Partnerships in South Africa' at the University of Pretoria The editor is Professor Jacqueline Heaton and the book is published by Juta. Prof Robinson's chapter title is "The Grounds for Divorce" and Prof Rautenbach's is "The Dissolution of a Hindu Marriage by Divorce." ISBN 978-1-4851-0734-7. For more information, see https://jutalaw.co.za/products/law-of-divorce-and-dissolution-of-life-partnerships-in-south-africa-the.
---
---
-o0o-