Event Title:
bhive Webinar - Never waste a good crisis – How to pivot your business in challenging times
Date:
Tuesday, 22 September 2020
Description:
Small business owners are prepared for many things, but the COVID‑19 pandemic is not only leaving us uncertain about how to cope in these strange times, but has also resulted in an unprecedented shift in the way that we do business.
Entrepreneurs may be wondering how to stay relevant to their customers and how to prepare for a post‑crisis world that might look very different to what we are used to. Having to pivot as an entrepreneur could be stressful, but it could also be a time of innovation and growth.  
This session aims to provide concrete tips to business owners for pivoting during a crisis, so that they may develop tactics for mitigating risks and taking advantage of opportunities - in the words of Winston Churchill, "Never waste a good crisis"!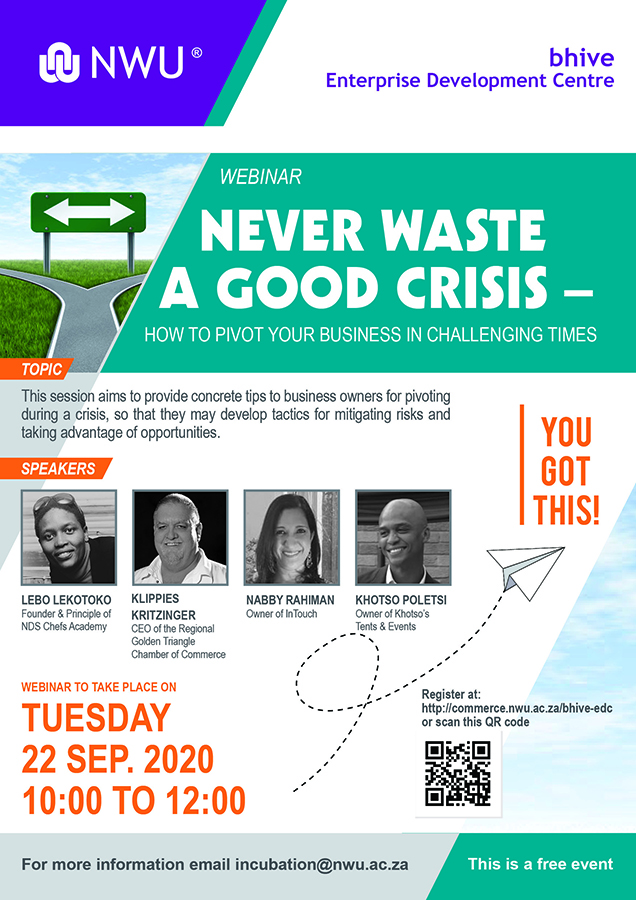 Contact details:
For more information, send an email to bhive EDC