Conference Costs
& Registration Instructions
If you wish to attend the conference, regardless of whether or not you are a presenter, you will need to formally register. After reading the general instructions on this page you should find it a simple process to register for the conference:
Personal Details
The first task that will need to be completed on the registration form concrens your personal details. This information will be kept in strictest confidence and is only employed to ensure that you are correctly accommodated at the conference. Please ensure that all text fields that are edged in a red line are completed. If not the form will alert you to return to this section and complete it properly.
The Basic Conference Fee
On the registration form, please indicate how many days you will be in attendance at the conference. We are attempting to keep any requisite fees to a minimum. For the purposes of standardisation, all conference-related fees are quoted in Euros (€). In this context, all fees collected are intended solely to ensure that all delegates enjoy a comfortable, rewarding and hassle-free conference. Fees pay for, inter alia, stipends for student assistants, technicians, printing and refreshment breaks (teas, coffees, water, fruit juices, sweets, biscuits etc). All delegates will also receive a conference bag, conference itinerary, notepad, conference pen, associated literature and a small conference gift. We are offering a specially reduced four-day conference fee of only € 60 as well as the option to attend one, two or three days at € 20 per day. Therefore, on the registration form, either click the four-day special option or (if you want to stay for less time) only click those single days that you require for actual conference attendance. Thus, if you click on one day you will be billed € 20; two days will be billed € 40; and three single days will be billed € 60. Do not click on all four days as then you will pay too much. If you want to stay for four days then obviously click on the special four-day offer.
All breakfast, lunches and dinners are served at the menza of the Faculty and are for your own cost and are not included in the basic conference fee.
However, the KRE does offer excellent meals at a greatly reduced cost: Breakfast (served between 07:30 and 08:30) costs € 4. Lunch (served between 13:00 and 14:00) costs € 12. Lastly, an evening meal is available as from 18:00. This costs € 14.
Travelling to the Conference
If you come by plane, the easiest way to travel to the conference venue is by shuttle bus which transfers you directly to the Faculty building (Cost: € 10 or HUF 3,200). You can order it at the AirportShuttle-Minibusz Desk after you have arrived at Liszt Ferenc Airport Budapest. You can also book it online in advance at http://www.minibud.hu/en/. Please refer to the map in Useful Information.                
Accommodation
On the registration form, you will need to indicate whether you need university/conference-based accommodation. You have the choice to make use of university-based accommodation or you are free to book into one of the many hotels in Budapest. If you decide to use accommodation other than what isn offered by the university, the onus is on you to make the necessary arrangements. In this regard, some helpful suggestions are made below.
University/Conference-based Accommodation
Option One: Ráday utca 28
The Faculty of Theology of the Károli Gáspár Reformed University is offering all conference attendees the option to make use of their own in-house accommodation at a specially reduced price of € 25 per person per night. Space is limited to 50 delegates, so this accommodation is offered on a first-come-first served basis.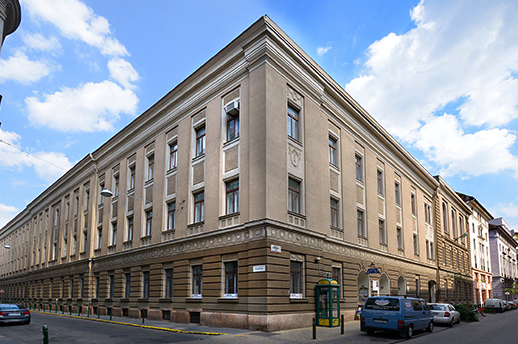 Ráday utca 28
In its building, the faculty has a modern dormitory used as a hotel in the summer in the heart of Budapest at Ráday utca 28. Ráday utca is a gastro-entertainment street having many different types of restaurants shops and galleries.

Another view of Ráday utca 28.                                   Ráday gastro-entertainment street
The university hotel has double rooms with a small bathroom en suite. There is WIFI or cable connection for the internet in each room. There are also parking possibilities in the courtyard of the building.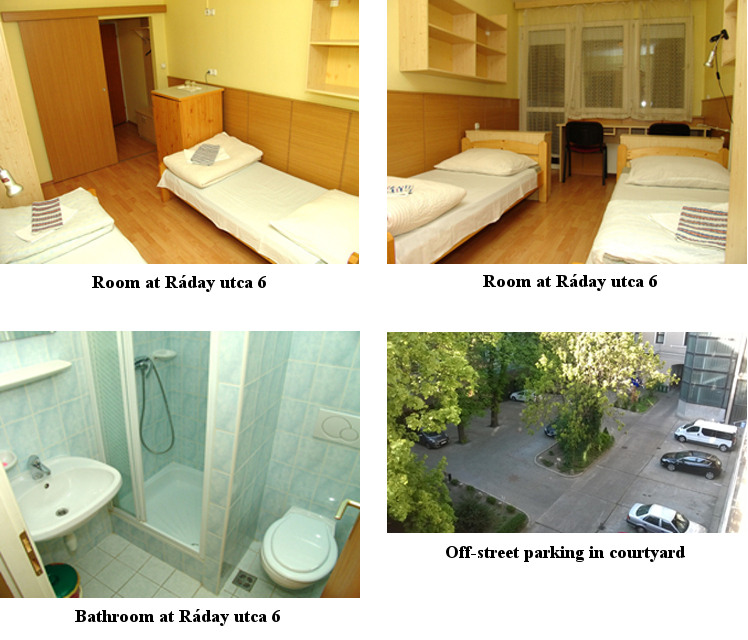 Please refer to the map in Useful Information.                
Option Two: MEÖT (Magyarországi Egyházak Ökumenikus Tanácsa):
MEÖT is situated at 117 Budapest, Magyar tudósok körútja 3.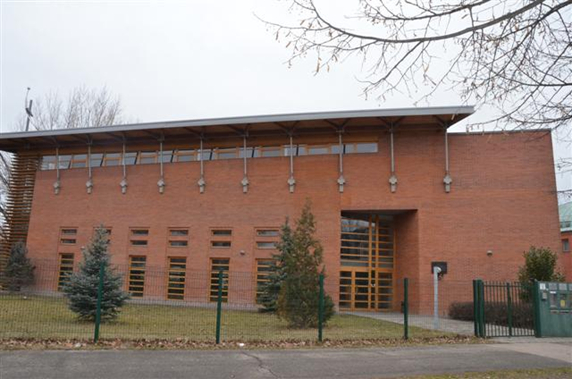 Magyarországi Egyházak Ökumenikus Tanácsa
Accommodation is available for a maximum of 20 delegates. Each room has two beds and is priced at HUF 9750 (about € 32) per person per night which also includes a breakfast. Please refer to the map in Useful Information.                
Availability of University Accommodation:
The conference runs from 20 -23 September. All KRE in-house accommodation is available as from the afternoon/evening of 19 September until the evening of 23 September (vacation before 12:00 on 24 September). If you wish to make use of this option please specify which nights you will require.
Except for the inclusive breakfasts at MEÖT, all university-supplied meals will be charged for separately at the time of ordering.
On the registration form, be careful to only indicate the nights that you want at either Option One (Ráday utca 28) or Option Two (MEÖT).  Do not click on both options as then you will cause confusion as well as pay too much!
The Ibis Budapest Centrum:
To assist you, we have also listed the contact details for the Ibis Budapest Centrum hotel which is situated in Ráday utca 6. The Ibis Budapest Centrum is very reasonably priced and situated only 50 m from the Kalvin ter Metro Station (lines 3 and 4) and 300 m from the Hungarian National Museum. Tram lines 47, 48, and 49 stop are situated only 50 m from the hotel. Ibis Centrum offers free WiFi and has a garden terrace. All rooms are air-conditioned and come with a private bathroom and satellite TV. The 24-hour bar serves light meals and a wide range of drinks. Many restaurants and cafés are just a few steps away from the hotel.

Please go to http://www.ibis.com/gb/hotel-2078-ibis-budapest-centrum/index.shtml for more details.
NB: If you wish to make use of this option or indeed any other hotel or Bed and Breakfast establishment in or around Budapest, please be aware that the onus is on you to make the necessary arrangements.
Special Conference Events
There will be two special conference events, viz.:
A Wine Tasting event followed by a special off-campus evening meal on the 21st September; and

A City Tour followed by the official Conference Banquet on 22nd September.
Both events will each cost € 35 (Total: € 70).
Please do not to forget to indicate if you would like to attend one or both of these optional extras.
Payment
After you have completed the automated registration form and submitted it, you will receive a confirmation email. Subsequentally, payment should be made for the following:
Basic conference fees;

Any KRE university/conference-based accommodation (i.e. Ráday utca 6 or MEÖT); and

Any special conference events.
Payments should be made to:
Károli Gáspár Református Egyetem
IBAN: HU42 1170 5008 2043 6034 0000 0000
Swift code: OTPVHUHB
Name and address of the bank:
OTP Bank Nyrt. 1055 Budapest. Nádor u. 6.
For any queries, please contact Ms  Éva Sógor directly at sogor.eva@kre.hu
To register for the conference, click on Conference Registration;
On the automated registration form complete all sections relevant to your situation; and

Save a copy for your records and/or print. Finally submit the form.